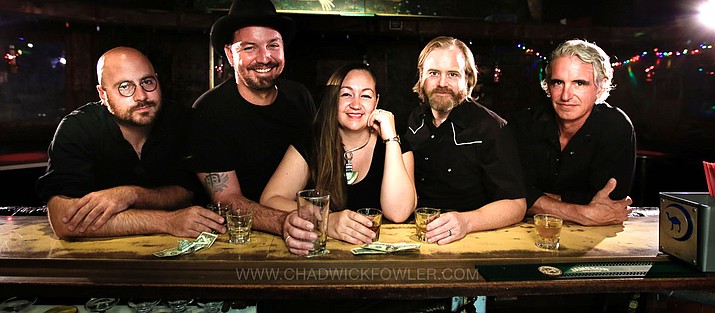 ---
---
COTTONWOOD -- Main Stage celebrates one of the community's most loved this weekend.
Friday, June 8, has local favorite DJ Johnny K will bring the heat for his recurring 2nd Fridays Dance Party at Main Stage. For several years and counting, Johnny K has delighted guests at the venue with his dance-fueled performances while playing crowd favorites of the last five decades and a variety of musical genres. The evening is free and begins at 9 p.m. 
Saturday, June 9, sees the annual event "Pennypalooza - Birthday Bash and Fundraiser." For a few years running, the venue has thrown local favorite Penny Smith a huge birthday concert and fundraiser.  This year's recipients will be the Verde Valley Senior Center in Cottonwood and the Arizona Burn Foundation's Camp Courage in Prescott.  There will be a silent auction of goods, services and treasures from all over the Verde Valley for you to bid on to support these amazing organizations.  The event has raised over $23,000 for charity in the last three years.  There will also be a 50/50 raffle, drink specials and more.
The evening will also feature a concert from Arizona Blues favorites The Sugar Thieves. 
The Sugar Thieves were born in 2006, in a smoky dive bar in Tempe Arizona. They began as a duo with Mikel Lander and Meridith Moore on guitar and vocals. After adding upright bass (Jeff Naylor), organ & sax (Shea Marshall), and drums (David Libman), they have become one of the hardest working bands around. Over the past seven years they've independently produced and released five albums, and have won the Phoenix Blues Society's "Arizona State Blues Showdown" three times.
In 2009, 2010, and 2013, The Sugar Thieves went on to compete in the International Blues Challenge in Memphis, where in 2009 they were voted one of the top ten unsigned blues bands in the world, and won the "People's Choice" award in 2010 and 2013.
This summer, The Sugar Thieves traveled to France, where they played the Cahors Blues Festival, along with a slew of other gigs: from clubs and brasseries to markets, a cultural arts center, and even a BBQ joint in Paris. In 2013 alone. The festivities start at 6 p.m. with music beginning at 9 p.m. and there is a $5 cover at the door.
Main Stage has a series of nightly events the remaining nights of the week as well. Mondays feature weekly Karaoke with host Red Bear at 8 p.m. Tuesdays are more Karaoke at 8 p.m. Wednesdays are "This Ain't Your Grandma's Bingo" with host Penny Smith, cash prizes, and drink specials. Bingo begins at 7 p.m. Thursdays has Trivia with Brett and Candy at 7:30 p.m.  The venue is closed on Sundays.
Main Stage is located at 1 S Main St in Cottonwood and is open Monday through Saturday 11am to close and 9am to close and closed on Sundays. All events are free to the public unless otherwise noted.