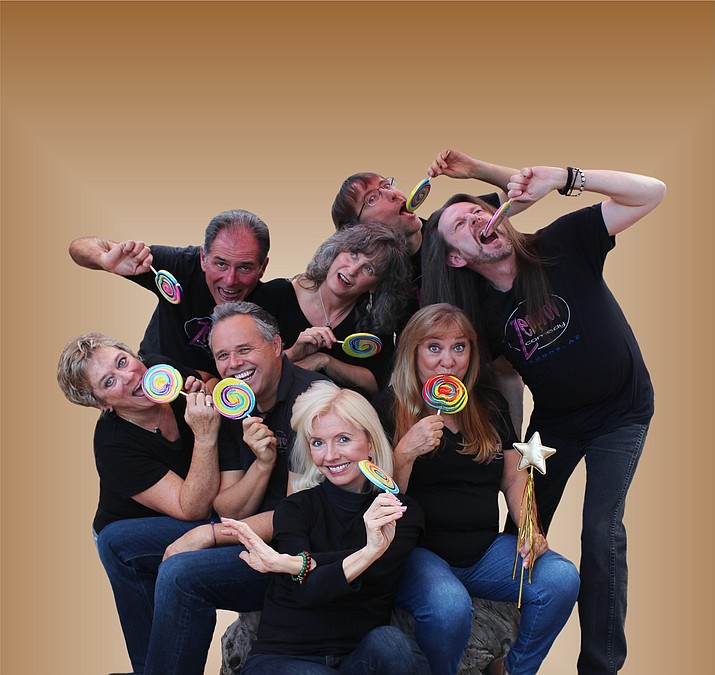 ---
---
Give Dad the gift of laughter this Father's Day weekend with a 90-minute romp through the twisted terrain of Zenprov Comedy. The troupe performs on Saturday, June 16 at 7:30 p.m. at Mary Fisher Theater in Sedona. Tickets are $12 advance purchase, or $15 the day of the show.
"Zenprov is the best comedy troupe in Arizona," said Patrick Schweiss, Executive Director of the Sedona International Film Festival. "People were laughing so hard their cheeks were hurting."
If you've never attended one of their live performances before, Zenprov Comedy is similar to the popular improvised TV show "Whose Line Is It Anyway?" The troupe performs fast-paced games and scenes created in the moment—always based on audience suggestions. Unlike sketch or standup comedy, nothing is rehearsed or scripted ahead of time. Best of all, it's never the same show twice. 
"Fatherhood is ripe for comedy," said Derek Dujardin the troupe's director. "We've been hard at work learning a fun new lineup of games for this show to surprise and delight our audience. Your dad won't know what hit him. Plus, we'll be asking willing dads to play along with special audience participation games."
Being a local favorite, Zenprov Comedy will also try out a new game called Sedona Bulletin Board. Grabbing whatever is the most popular grievance or wildest Facebook post from the Sedona Community Bulletin Board, the troupe of launch into some fun and engaging characters generated in the moment.
The Zenprov Comedy players embrace the Del Close method of improv acting, which emphasizes the "group mind" that mysteriously develops during a performance. Miraculously, the player's minds fuse together to create a "super mind" where they practically finish each other's sentences—and often do. Laughter ensues.
The super minds of Zenprov Comedy are Derek Dujardin, Shaeri Richards, Chris Redish, Tom Shoemaker, Shaunn Cochran, Betty Testa, Linda Roemer and Mary Carder.
Tickets are $12 pre-sale and $15 the day of the show. Tickets can be purchased online at www.zenprovcomedy.com, or in person at Mary Fisher Theater box office or by phone 928-282-1177.
The Mary D. Fisher Theater is located across the street from Harkin's Movie Theater on 2030 St. Rt. 89A. Doors open at 7:00 p.m.