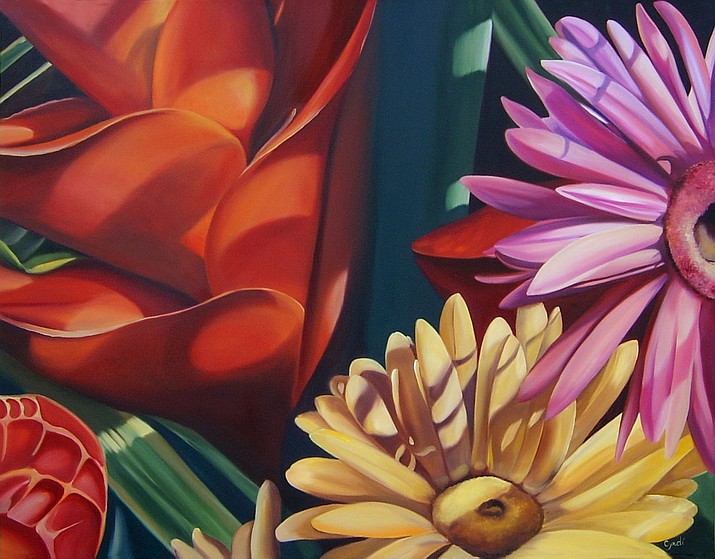 ---
---
The Sedona Arts Center is hosting its ongoing series of Crash Courses, which are short in duration and include all materials. As specialized courses with step-by-step instruction, they are perfectly appropriate for the beginner student. 
Cyndi Thau, Director of the Fine Art Gallery at the Arts Center, teaches a Glazing Crash Course, where students learn oil painting using the glazing technique. Glazing is a method of applying thin layer upon layer of oil paint to achieve the depth and translucency associated with all things in nature.
Oil painting using the glazing method is excellent for creating complexity and form. Color, light, shadow, translucency—are the ingredients that you will work with to create a beautiful painting to take home in just four sessions.
The course meets on Tuesday and Thursday afternoons from 1 to 4 p.m. Each painting will dry between sessions allowing fresh layers to be applied every session. The course is for beginners but also great for more advanced painters who wish to learn this specific technique and enhance their skills in composition, color mixing and layering. 
The glazing method has been used by such artists as Rembrandt and Vermeer. Artists made their own pigments, painting conditions were often dark and damp and it was difficult to achieve brightness in coloration for their paintings. Glazing adds magical optical effects and strengthens a focal area for the viewer. 
Glazing has been employed by many painters since the invention of oil painting. Although in theory, it is very simple, in practice, glazing can be a very complex undertaking. In the simplest terms, glazing consists of applying, usually with a wide, soft brush, a transparent layer of paint over another thoroughly dried layer of opaque paint. The two layers of paint are not physically but optically mixed. Glazing creates a unique shine through, stained-glass effect that is not obtainable by the direct mixture of paint. Due to its transparency, a glaze layer produces an optical depth that attracts the viewer's eye.
Whether you are new to oil painting or have quite a bit of experience this class will advance your knowledge in painting. New students will learn color mixing using a limited palette, composition selection, how to transfer a photographic reference image to a 16x20 inch canvas (using a grid system), how to begin your painting, and develop the work to a finish in a step-by-step process. 
 More advanced students will take on ever-challenging subject matter evolving a larger range of values, edges, brushwork and perspective. A fresh, thin, coat of paint is applied at each stage to build the illusion of a 3-dimensional subject on a 2-dimensional surface. All materials are included in the cost of the class. 
Cyndi's Glazing Crash Course takes place July 10 to 19 at Sedona Arts Center.  You can register for this and many other Crash Courses online at SedonaArtsCenter.org/School/Weekly.html or by calling 928-282-3809.