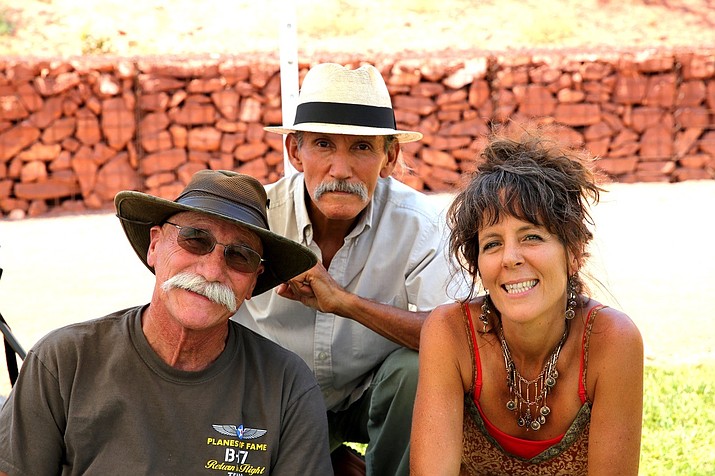 ---
---
Vino Di Sedona is the place to be on a Wednesday night listening to rock and country tunes by Rick Busbea, June 13, 7-10 p.m.
Rick is known for his outstanding covers of favorite songs by Kenny Chesney and Jimmy Buffett. "Rick adds his own flavor to the songs that he covers, and is one of Sedona's favorite entertainers," says Vino Di Sedona owner Wes Schemmer. Rick performs covers by other well know singers, and also performs originals songs he has written. The "Rick Busbea Jukebox" allows you to pick your favorite songs for Rick to play.
Check the Vino Di Sedona calendar for Rick's dates, he's there a few times every month.
Get ready to rock at Vino Di Sedona with The Cadillac Angels on Thursday, June 14, 7-10 p.m. The Cadillac Angels are American music, simple as that. Taking what they loved from Rock n' Roll, Country, Urban/Delta Blues, forging it, over a million miles of touring, to produce a personal, hybrid sound, rooted in hard drivin' electric guitar. Songs of love and life seen through eyes of a lonesome traveler. The Angels serve it up, hot and honest -- that›s American Music.
Don't miss Sedona's best rock trio, Saffire, at Vino Di Sedona on Friday Night, June 15, 7-10 p.m. Saffire is a straight-up quality Rock & Roll trio with a wide and far-reaching repertoire. Their sound is authentic and driving; featuring complex rhythms, soulful melodies and spirited grooves. Though newly formed this year in the Verde Valley, the three members have a tight chemistry in their love for music. Classic tunes from the last several decades are covered in an original and very engaging way. "It is so much fun to be playing the songs I grew up loving," says Gina Machovina, classical guitarist/singer and songwriter for Saffire. "But even more enlivening for me is the focus and attention we are giving to my music compositions. They are really taking shape in the best way possible."
Gina brings a unique virtuosity and mesmerizing quality to the forefront as well as an edgy and artistic set of original tunes.
Percussionist Terry Brennan is a forceful and dynamic player and has a sixth sense when providing the textural backbone for the group, and he has a strong deep voice, and plays harmonica and sax.
Al Hinojoza, bassist, has awesomely stepped up to complete this Rock trio, learning the instrument at breakneck speed. No one believes he has just 'picked up' the instrument a year ago. Saffire loves what they do.
Saturday, June 16, brings three of Sedona's most loved and talented musicians to Vino Di Sedona, Darius Lux, David Harvey, and Saith. Music begins with Wine Tasting and international singer-songwriter Darius Lux, 3:30-6:00 p.m. Darius is an award-winning artist who specializes in classic, uplifting pop with soulful vocals. Lux plays classic covers from Van Morrison to John Mayer, and his original songs connect with the heart through inspiring themes that range from empowerment to romance. His smooth voice and looped guitar stylings create an earthy blend of popular music, rock and reggae that you can relax or dance to. Darius' life has been one of expansive adventures. Originally hailing from London, he's been creating music almost as soon as he could talk. For more information visit dariuslux.com.
Saturday night brings music by David Harvey and Saith (Nathan Gangadean). David performs classic rock covers and originals, including songs from his CD "Ten Years Running." According to David, "Music is a catalyst of expression, it can touch you, but you cannot touch it. Experienced only through the moment of sound. What music means is still yet to be discovered."
Saith is a local musician, singer, music producer and spiritual hike guide in Sedona. As a multi-talented artist, classically trained in music, an accomplished yoga teacher, an energy therapist pioneering potent synergistic modes of healing mind body spirit, nature guide through the sacred sites of Sedona. He has become deeply attuned to the awakening wisdom of our spiritual traditions and brings all this and more to his awakening songs and musically transformative performances. David and Saith will also be joined by David's son, Luke Harvey.
It's Sunday-FunDay at Vino Di Sedona with music by Rick Busbea, June 17, 6-9 p.m. If you ask Rick to label his music style, he will jokingly tell you it's "Caribbean Country Classic Rock." As he plays favorites by artists ranging from Kenny Chesney and Johnny Cash to Van Morrison and Marshall Tucker, it's easy to see his point. Rick does play some original music, but his passion is cover songs to take his audience down "memory lane." This belief led to the creation of the "Rick Busbea Jukebox" so his audience can pick favorite songs for him to play. 
Music Monday features 2017 Northern Arizona Blues Challenge winner D.L. Harrison. D.L. is an Arizona singer-songwriter who delivers a high-energy rock and blues show, and was recently named Prescott Idol. Music on Monday on June 18 is 6-9 p.m.
Sedona's best Open Mic night, hosted by Dan Rice is every Tuesday, 6-10 p.m., at Vino Di Sedona. Each musician is allotted an amount of time, or number of songs, and every week brings a variety of new talent along with regulars like KB Bren, Jim French, Walt Young, Randy J, Lisa Hart, Tim Young, and Dave Rice who frequently play at Open Mic.
Vino Di Sedona Fine Wine and Craft Beer, is located at 2575 W SR 89A in West Sedona. For more information or to see the full calendar of events, visit www.VinoDiSedona.com. 928-554-4682.