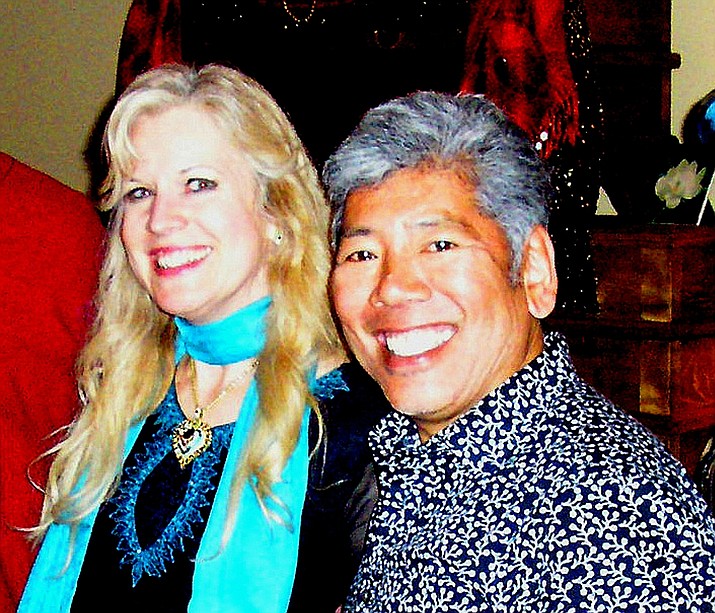 ---
---
Popular contemporary & jazz vocalist, Susannah Martin, performs "Brunch Grooves" on Sundays at Steakhouse 89 in West Sedona, from 11 a.m. - 2 p.m., joined by guitarist/ vocalists, Patrick Ki (most Sundays) and Robin Miller (every 4th Sunday only). The duos delight listeners with their groovy renditions of hits from the 60s & 70s, plus latin classics and catchy originals. There is no cover charge, but reservations are recommended for seating near the music. Brunch is served to order (no buffet) with a delicious new brunch menu.
The Martin-Ki and Martin-Miller duos with Susannah Martin, Patrick Ki and Robin Miller feature virtuoso acoustic guitar & ukulele combined with rich lead vocals , harmonies and percussion. The groups' versions of tunes by artists such as the Eagles, the Beatles, Fleetwood Mac and Sting along with well-crafted originals and spicy latin jazz have won them an enthusiastic fan-base on the local music scene.
Susannah Martin is acclaimed for her ultra-enticing vocals. She finesses R&B, delivers sultry improv and sings fluently in Brazilian Portuguese on bossa nova hits. Martin also plays light percussion to deepen the groove. Known locally as one of Sedona's "Dynamite Divas" Susannah is also a private vocal coach. Her current bands include MMK (Miller, Martin & Ki )Trio, Martin-Sandner Jazz Combos,  Flor de Bee, Earth Speak, Dusky Groove and successful touring bands, The Dynamite Divas and .3MKi (aka Miller, Miller, Martin & Ki).
Patrick Ki is a formally trained classical and jazz guitarist known for his warm and beautiful guitar & ukulele sound, influenced by his Hawaiian island upbringing. He can also drive a strong and deep guitar groove and loves spicy flamenco improv. Patrick sings as well and adds wry humor as the group's emcee. Ki joins Susannah every Sunday (except the 4th Sunday of each month) for "Brunch Grooves".
Robin Miller is one of the most versatile and powerful guitarist/singer/songwriters around, honed by over forty years of professional experience. From Fogelberg to Hendrix, he's equally at home, delivering with joy, his mesmerizing guitar work and rich voice. Miller joins Martin every 4th Sunday for "Brunch Grooves".
Steakhouse 89, located in West Sedona, offers an exceptional dining experience. Open Tuesday through Sunday at 4 p.m. for Happy Hour and Dinner and Sunday at 10 a.m.-2 p.m. for Brunch, the venue features live music by talented local musicians, with no cover charge. With 5 separate dining and are also uniquely suited for large parties and special events. Steakhouse 89 is located at 2620 W Hwy 89A in Sedona. For reservations and information, call (928) 204-2000 or visit www.steakhouse89.com