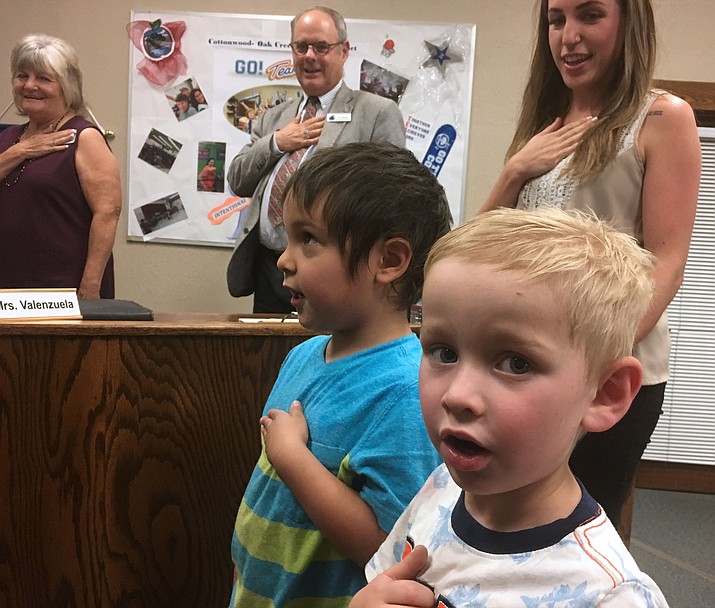 Originally Published: June 16, 2018 4:50 p.m.
COTTONWOOD – Eric Marcus told his fellow Cottonwood-Oak Creek School District board members Thursday that a district's values are apparent "when you see a budget."
Thursday, the district's governing board unanimously voted to accept the proposed budget for fiscal year 2018-2019.
The budget, which awaits a public hearing before its final approval in July, sounded off in the affirmative for Cottonwood-Oak Creek teachers in the form of a 12-percent salary increase.
"We care about the teachers who are providing this education," Marcus said.
Thanks to a promise made recently by Arizona Gov. Doug Ducey, a pay increase is available to the state's school teachers.
In addition to the salary increase for teachers, Cottonwood-Oak Creek School District also offered a 9-percent increase for support staff and a 6-percent increase for administration that has not already signed a contract for 2018-2019.
The district's proposed budget for fiscal year 2018-2019 estimates about $12.2 million in Maintenance and Operations expenditures, and perhaps more importantly, with the 12-percent teacher pay raises to average out at about $4,000 per educator.
According to the proposed budget, the $12,214,425 M&O represents a 5.4-percent increase from the $11,587,676 in Maintenance and Operations from a year ago.
Other estimated expenditures for fiscal year 2018-2019 include $1,073,013 in its classroom site fund and $260,803 in unrestricted capital outlay.
Cottonwood-Oak Creek estimates a 2.25 percent primary tax rate for 2018-2019, with a 0.985 percent secondary tax rate. Those figures compare to last year's 2.081 percent primary and 0.9502 secondary.
A copy of the proposed budget, can be found at https://www.boarddocs.com/az/cocsd/Board.nsf/vpublic?open.
Call 928-634-2288 for more information.
New dress code approved for Cottonwood Community Schools
Matt Schumacher told the Cottonwood-Oak Creek School Board that Thursday was "a day my mother thought would never come."
Schumacher, principal at the newly-named Cottonwood Community School, asked his board to approve a modified dress code that is similar to the dress code at Mountain View Preparatory.
"As a representative of our stakeholders, I see value in this," Schumacher told the board before its 5-to-0 vote to support his recommendation.
Though the majority of the dress code at the former Cottonwood Middle School has not changed, the updated code emphasizes changes in shirts and pants, Schumacher said.
Shirts are to be solid color with no stripes or patterns and either red, black, gray or white. All shirts must have a collar, such as polos, oxfords or button-down.
Pants or shorts must be solid colored and either navy blue, black, khaki (tan), or gray. Blue jeans are allowed.
Citing a belief that there will be fewer disciplinary issues, an increase in school pride and an enhancement of punctuality, Schumacher said that he sees the more structured dress code as "one small piece that would eliminate distractions."
"I applaud you for this," board member Jason Finger told Schumacher before the vote.
But board member Eric Marcus was not at first in support of Schumacher's dress code.
"I'm not opposed, and I'm not persuaded – yet," Marcus said. "But I'm persuadable."
Before the board's vote, Schumacher stated that the community is welcome to reach out to him through Cottonwood Community School with any questions about the dress code.
Schumacher also said that he anticipates that the dress code will be posted on the district's website sometime in the upcoming week.
Visit http://www.cocsd.us for more information.
-- Follow Bill Helm on Twitter @BillHelm42