Originally Published: March 1, 2018 12:01 p.m.
2017 provided one of the biggest assaults on the Arizona high school track and field record book in the 100-plus years the sport has been contested in the Grand Canyon State.
And when the 2018 season kicks off Saturday, one of the most revered records on the books will be in jeopardy of being bumped to the No. 2 position in the all-time Arizona standings.
That mark is the legendary 69-foot, 3-inch shot put record established by North High School's Dallas Long in 1958. It was the national high school record at the time. In fact, Long improved the high school national record three times in 1958 with his 69-3 mark standing as the U.S. national high school record until 1967. Long's prowess with the 16-pound ball was just as impressive as his high school exploits with a 12-pound shot put. He was a bronze medalist at the 1960 Olympics in Rome and the gold medalist at 1964 Olympics in Tokyo. During his international career, Long tied or broke the world record six times between 1959 and 1964. He was ranked no lower than No. 6 in the world in the event between 1958 and 1964 by Track and Field News.
Sixty years later, all eyes this season will be on Goodyear Desert Edge senior Tyson Jones. Last year as a junior, Jones popped three of the 10 longest throws in Arizona prep history with a season's best of 67 feet, 6.5 inches. Already in 2018, competing unattached in an indoor meet, Jones has put the shot 69 feet, 7.5 inches.
Jones is one of three state prep athletes expected to establish new Arizona state records in 2018.
Returning state champion Tyrees Moulton of North Canyon High School last year turned in two of the three fastest 400-meter dash times in Arizona history. His seasonal best of 46.51 seconds is just .04 of a second off the state's all-time best of 46.47 seconds, established by Desert Vista's Spencer Chase in 2009.
On the girls' side, Chandler High School junior Morgan Foster will look to add to her already clear dominance of the state's all-time best times at 800 meters. In the sport's metric-electronic era, only six girls have run under the 2-minute, 10-second mark and Foster has done it seven times, including Arizona's best time ever of 2:07.06.
Still, among long-time observers, Foster is still chasing the 2:06.7 hand-timed mark over the slightly longer 880 yards (approximately 805 meters) recorded by Alhambra's Kathy Gibbons in 1972. Gibbons was a pre-Title IX athlete who competed on the national stage prior to the establishment of girls' high school track and field as a recognized sport in Arizona. She cut her running teeth on the Amateur Athletic Union age group club circuit. In Golden Girls, deceased Arizona track and field historian Barry Sollenberger wrote that Gibbons was "the greatest middle distance runner in Arizona history," male or female. "Her times," Sollenberger wrote, "were of 'super star' status … as fast as any female in the country."
Gibbons was selected as an alternate for the 1972 U.S. Olympic team at 1500 meters. She was injured leading into the 1976 Montreal Olympic Games. The United States boycotted the 1980 games in Moscow. Gibbons was killed Jan. 12, 1982, when struck by a car in Boulder, Colo., during a training run in preparation for the 1984 U.S. Olympic trials.
And, as is always the case in Arizona, the Chandler girls' team will make serious runs at the state's all-time best marks in all three relay events. In 2017, the Chandler girls recorded four of the five fastest times in state history in the 4X400-meter relay and were less than a second off the state's all-time best in the 4X100-meter event, a mark established by – you guessed it – Chandler in 2008.
Mingus Union High School
Head Coach Molly Westcott's Mingus Union track teams will make their season debut Saturday in the third annual Small School Invite for Division 3 and 4 schools at Mesa Community College.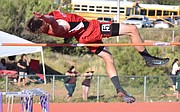 Westcott's boys' team is paced by senior captain Jonathan Jung, who is equally proficient in the sprints, jumps and also is expected to test his skillset in the 300-meter hurdles this season. He recorded a wind-aided 11.45-second 100-meter dash last season and also cleared 6-1 in the high jump.
Also bolstering Mingus' sprint corps this season will be much-improved junior Colby Fanning, sophomore Taylor Capite and junior Tyler Koch.
Another key returner for the Marauders is junior Kendrew Streck, who had seasonal bests in 2017 of 45-feet, 3-inches in the shot put and 129-8 in the discus.
On the girls' side, senior captain Hannah DeVore is a seasoned performer in sprints, hurdles and relays who also has long jumped 16-feet, 1.5 inches. As a sophomore, she finished third in the 2016 Division 3 state championships in the 300-meter hurdles with a 46.98-second clocking.
Also back for Mingus is junior Meg Babcock, who was the state runner-up last year at 800 meters. She has a personal record of 2:22.33 over 800 meters. Babcock is equally proficient at 400 meters, where she has a best time of 62.8 seconds, and she can also step up in distance at 1600 meters, where she has a 5:44 PR.
Babcock will be joined by DeVore, junior hurdler Shelby Brenner and impressive freshman Natalee Rogers in the girls 4X400-meter relay Saturday.