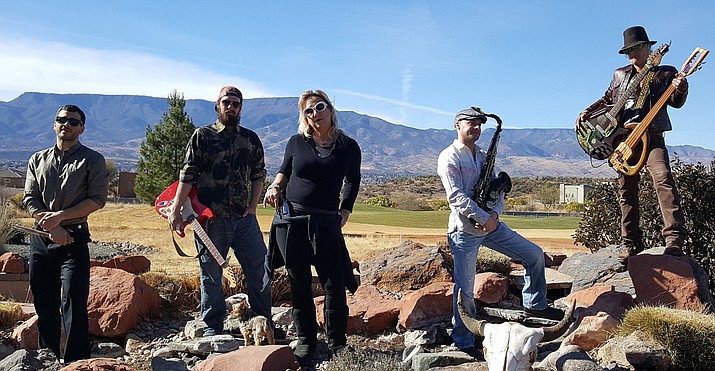 ---
---
Sedona's newest jam band is coming to Jerome for the first time.
CULT 45 is playing this Saturday at the Spirit Room, in Jerome, for an afternoon full of fun, dance and creativity. 
This funky group has been jamming around Sedona for months. They've been packing them in at Olde Sedona Bar & Grill, Mooney's Irish Pub, Oak Creek Brewery, and Dellepiane.
CULT 45 is known for spontaneous jams, funky dance hits and classic covers with a twist.
CULT 45 has an intuitive rhythm section to compliment five excellent soloists. Mark, on drums, lays down the beat that transforms. Lynzi, on the bass, dances and grooves all night long. Francine, jams on the keyboard and sings with soul. Tony brings inspired saxophone solos and R & B vocals. Rob, on guitar, is the jam specialist, evolving each song to a new level.
Join the party this Saturday, March 10 from 2 – 6 p.m. at the Spirit Room in Jerome.
CULT 45 is coming to town and they are going to rock the mountainside.
The Spirit Room is located 166 Main St. #155.
You can also catch CULT 45 at Mooney's Irish Pub, March 23, 24, and 31 from 9 p.m. to 1 a.m. They will perform at Dellepiane on March 10 from 8 a.m. to midnight and March 17 from 10 p.m. to 1 a.m.