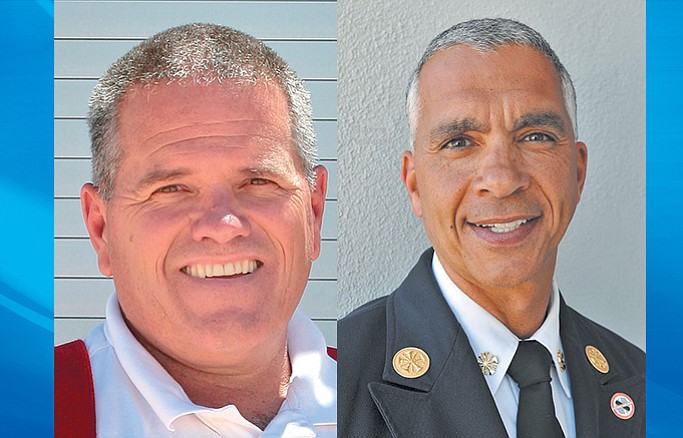 Originally Published: March 10, 2018 3:05 p.m.
VERDE VALLEY – For close to two years, an Intergovernmental Agreement between Copper Canyon Fire and Medical Authority and Verde Valley Fire District has allowed the two districts to share its reserve firefighters.
According to Verde Valley Fire Chief Nazih Hazime, the two districts are looking to hire about 18 additional reservists as several of the two fire districts' reserve firefighters "have been picked up by other agencies."
Hazime said that about 90 percent of the districts' reserve firefighters pursue a career in firefighting and treat an opportunity to be a reservist as the first step in that career path.
In fact, "maybe one-half" of Verde Valley Fire's 39 firefighters started as reserves, Hazime said.
Although the two fire districts share their reserve firefighters, Hazime said that those reservists are required to fill shifts at least two times each month, with one each scheduled for Verde Valley Fire and Copper Canyon Fire.
Successful candidates are at least 18 years of age, and have completed Firefighter 1 and Firefighter 2 training, though Copper Canyon Fire Chief Terry Keller said that successful candidates "have also come from [Valley Academy of Career and Technology Education]."
Successful candidates are also "required to be" an Emergency Medical Technician (EMT), Keller also said.
Though the partnering fire districts will consider any applicant who applies, Keller said that hiring local firefighters is his first choice.
"We're not restricted to the Verde Valley, but we'd prefer to hire local because they're available on short notice," Keller said.
Hiring successful candidates would mean the partnering districts' list of reservists would be at about 25, Keller also said.
What makes a successful candidate? According to Keller: Trustworthiness, dedication, commitment, loyalty.
"We take care of people and their stuff," Keller said.
Keller also said that working as a reserve firefighter "gives people a chance to try it on for size and see if that's what they want."
"What we're seeing as the economy has heated up, agencies are hiring to fill some of the voids they lost in attrition," Keller said. "If you can be a part-time firefighter, it makes you competitive for some of those spots."
For more information about become a reserve firefighter with Verde Valley Fire District, call (928) 634-2578.
For more information about becoming a reserve firefighter with Copper Canyon Fire and Medical Authority, call (928) 567-9401.
-- Follow Bill Helm on Twitter @BillHelm42
More like this story