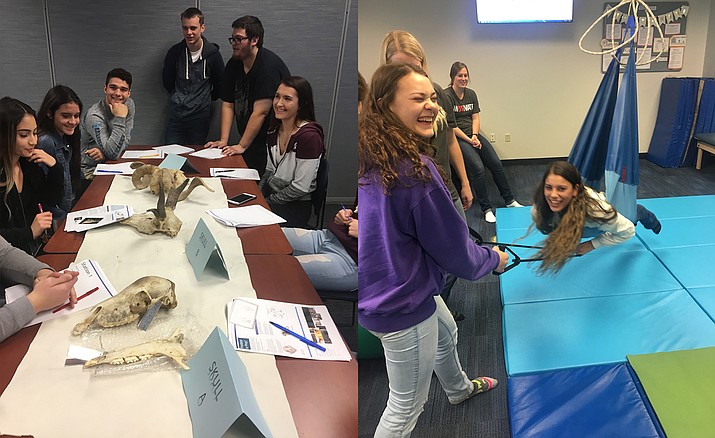 Originally Published: March 10, 2018 2:43 p.m.
On Feb. 28, a group of 40 Sports Medicine students from Mingus Union High School, supervised by MUHS Sports Medicine teacher Mike Boysen, drove to Glendale to attend Midwestern University's Health Science Career Day.

When we arrived, we were immediately greeted by our guide, Semida Jones, a second year Dentistry student, and started our campus explorations.

Our first stop was skeletal studies. There we learned about how the different skull structures determined things such as whether the specimen is predator or prey, herbivore or carnivore, and bipedal or quadrupedal. We saw several different skulls and identified the different types of animals.

After leaving the decaying animal skulls, we traveled to Occupational Therapy. We were taught about the different ways the Midwestern Students help people with physical or mental illnesses in the activities of daily living. We had four rotations there.

The first rotation included hand-eye coordination. We had to put tiny cylindrical pieces of wood into little holes on a block, then take them out while competing against time and another student. Next, was swings and mats. We learned about using our body's strength to help with communication. After, we put on clothes and frosted a cookie with a sort of disability such as, paralysis, hip replacement, casts, etc. Last, was the formation of casts that are specially made for each individual person.

Following that, the group traveled to a lecture about clinical psychology. We learned about the different types of psychology careers available, and what it takes to become a psychologist. It was exciting to learn about the brain, and to be informed about how working hard will help us succeed in life.

We took a little lunch break on campus, which led us to our last lab of the day, Speech Pathology. Speech-Language Pathologists treat many types of communication and swallowing problems. We watched videos of people with different aphasias' and how strokes affected their lives, as well as others learning to burp talk and the use of electrolarynx. The exciting part was each of us were allowed to use the electrolarynx. This ended our day at Midwestern University.

We would like to thank Mr. Boysen, Mingus Union High School, and Midwestern University for this valuable experience.

More like this story