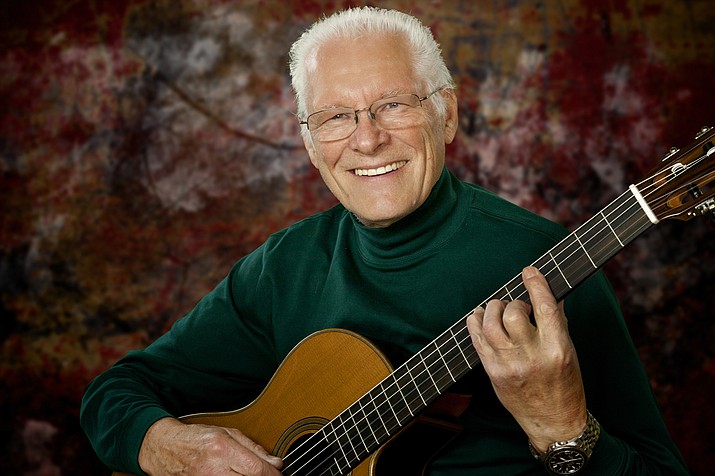 ---
---
If You Go ...
• What: St. Patrick's Day Performance
• When: March 17 at 7:30 p.m.
• Where: Mary D. Fisher Theatre
• How Much: $15 general admission, $13 for film festival members.
• More Info: www.sedonafilmfes...
Celebrate St. Patrick's Day in Irish style when John Freeman performs his show of traditional and popular Irish songs at the Mary D. Fisher Theatre on Saturday, March 17 at 7:30 p.m.
Accompanied by his guitar and banjo, John will sing many well-known songs and some not-so-well-known songs of Ireland in a show called "John Freeman: An Evening in Ireland".
The audience will hear stories of his experiences there along with humorous Irish lyrics. There may even be an odd Scottish or English song thrown in for good measure.
John Freeman comes from London, England — mother Irish, father English. He sings a wide variety of songs. Having performed in Ireland with an Irish show band, he picked up quite a few songs that are lesser known to people in the USA. He tells stories of his experiences there and funny antidotes.
"I first started playing the guitar when I was seventeen, but not very good at it," said Freeman. "My mother had been a c oncert pianist and violinist with The Bournemouth Symphony Orchestra but she couldn't help me. I got drafted into the army over there and was approached by a fellow draftee who played the tenor banjo. He was looking for someone to back him up and wanted to know if I was interested in giving it a try. His name was Harry Black and had played for The Chris Barber Jazz Band. They were the most popular Dixie band in the country. Their most popular recording was "Petite Fleur" which sold over a million copies in the United States alone."
Visit www.SedonaFilmFestival.org for tickets and performance information or call 928-282-1177. Both the Sedona International Film Festival Office and the Mary D. Fisher Theatre are located at 2030 W. SR 89A in West Sedona.