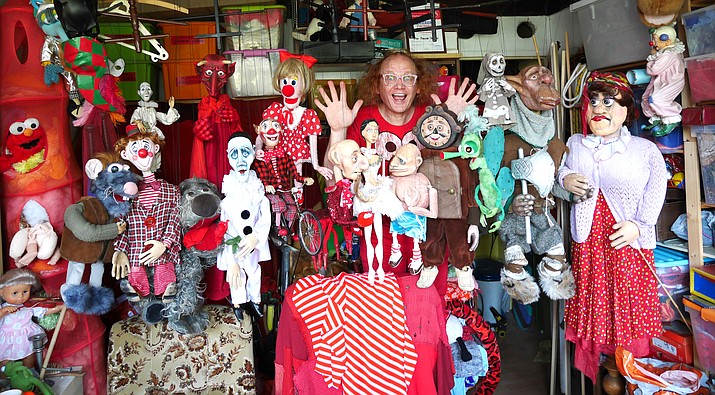 ---
---
If You Go ...
• What: Marionette Artist live performance
• When: March 18 from 2 p,m. to 3 p,m,
• Where: Sedona Hub, 278-494 Posse Ground Rd.
• How Much: $5 for children, $10 for adults
• More Info: sedonchamberballet.org
One of the top clown/puppeteer performers in the world, Przemysław Grzadziela, will perform live in Sedona for children. Many have already enjoyed  Przemyslaw performances when he was Drosselmeyer in The Nutcracker in Sedona these past five years. 
Przemyslaw will perform live once again in Sedona with a performance which will be an explosive mix of clowning, mime, dance, acrobatics, masks, puppets,  juggling balls, clubs,  riding a unicycle and improvisation with the audience. 
The marionettes are handmade by Przemyslaw and are works of art in their own right.  The performance will be on March 18 at 2 p.m. at the Sedona Hub.
Grzadziela studied classical ballet at the Gdansk School of Ballet  and  he danced professionally  for 17 years as a soloist with Opera Bydgoszcz, PolishDance Theatre Poznan, and Operetta Wroclaw, and later became an actor/mime in the Wroclaw Mime Theatre.
Currently he dances as a guest artist with the Polish Dance Theatre, the Grand Theatre in Poland and the Phoenix Ballet.  In 1980, Przemyslaw founded the internationally acclaimed and award-winning Theatre Push Pin in Gdansk. Theatre Push Pin productions showcasing his rare talents.   
Grzadziela has choreographed for performances in drama and puppet theaters, including Remember Me, Tristan and Isolde, Balladyna, Pinocchio, The
Jungle Book,  Hansel and Gretel, Puss in Boots, Ferdinand Wonderful, Baktus and Karius and many more.
Przemysław is a world-renowned educator of his art form and has taught pantomime classes at Theatre Acedemy Zelwerowicz in Warsaw and at the Department of Puppetry Art in Bialystok.
For ten years, he has led creative mime workshops in Poland and abroad for children of all ages.