Wischmeyer lawsuit against Camp Verde on hold
Judge Kottke encourages parties to find 'usable solution'

By
Bill Helm
|
BillHelm42
Originally Published: March 13, 2018 1:16 p.m.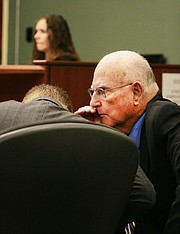 CAMP VERDE – Maybe it's not too often when a judge recommends two parties come to an agreement out of court.
But Yavapai County Superior Court Judge Christopher Kottke told Camp Verde residents John and Cheri Wischmeyer, and the defendant, Camp Verde Mayor Charlie German, that what a buffer is and what it is meant to be isn't just a matter of seeing things differently.
Friday, Judge Kottke rejected the Wischmeyers' petition to have the Town of Camp Verde stop work at the proposed Camp Verde Sports Complex on SR 260 until the definition of buffer could be agreed upon.
Kottke also told the Wischmeyers Friday that in Mayor German, they "may have the wrong defendant."
"Council is in favor of the 100-foot buffer," Mayor German said.
Though Judge Kottke denied the Wischmeyers' request, he's "not dismissing the lawsuit."
"I'm hopeful that the parties can come up with a non-litigated solution," Judge Kottke said.
Conflict of interest
Judge Kottke told the Wischmeyers that there was "no evidence" that Mayor German has the authority "perceived or actual" to suggest the conflict of interest they claimed in their petition.
"You didn't present evidence other than saying he was out there at the time," Judge Kottke told the Wischmeyers.
In November 2008, the Camp Verde Town Council approved a 100-foot buffer between property owners and the proposed complex.
On Feb. 8, the Town of Camp Verde began to grade dirt within 15 to 30 feet adjacent and parallel to the residences of Wischmeyer and at least two other families.
According to Camp Verde Town Manager Russ Martin, the Town plans for a storm water drainage swale that would be within the buffer zone.
Because of the drainage, Martin said a trail planned to be part of the complex would be farther from the residents' properties than previously planned.
Status conference
At 2 p.m. Monday, May 7, the Wischmeyers are scheduled to have a status conference with Judge Kottke.
The purpose of the meeting, Judge Kottke told the plaintiffs, is to "find out where you are in your discovery," and maybe to have come to a "usable solution with the Town, which is my hope."
"Your lawsuit is intact," the judge also said.
Camp Verde Town Manager Russ Martin said Monday that "no development will occur within the 100-foot buffer."
"We want to be a good neighbor," Martin said. "And we will be a good neighbor."
In an effort to come to an out-of-court agreement, Cheri Wischmeyer said Monday she's "hopeful" that council would invite the McCracken-area property owners to a work session.
"I would really hope, I would really love to have them come out to see how close [the work] was to our property," Wischmeyer said. "You know your citizens are upset. Come see what we're upset about."
Wischmeyer said Monday she was "pleased" that Judge Kottke left the petition open and that he'd "like for both sides to get together."
"We think it's clear that the judge was looking for something different than what we thought he was," Wischmeyer said.
-- Follow Bill Helm on Twitter @BillHelm42
More like this story
SUBMIT FEEDBACK
Click Below to: