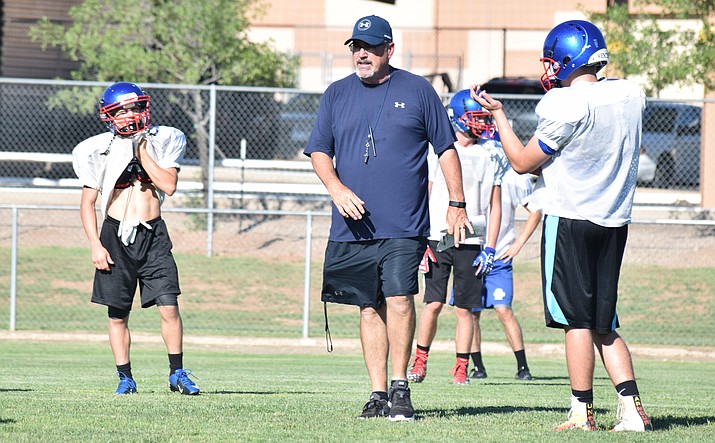 Originally Published: March 17, 2018 2:21 p.m.
Camp Verde High is in the market for a new head football coach again.
Head football coach, head golf coach and PE teacher Jerome Rhoades resigned effective at the end of the school year and the Camp Verde Unified School District Board approved it on Tuesday.
Rhoades said he us stepping down because his wife's job necessitates her moving back to Phoenix.
"I'm going down there because of her job," Rhoades said.
Rhoades went 6-10 as the Cowboys' head coach. He took over on an interim basis in September 2016 after then head coach Steve Darby was suspended.
Darby resigned in October 2016 and after that season Rhoades became the Cowboys' head coach. He became the Cowboys' head golf coach this season.
"It was fun, it was really fun," Rhoades said. "I really hate to leave. We just get some things started and kind of get the kids excited about football again and get the program moving in a positive direction and then we gotta turn around and let it go. It's sad from that stand point, but man it was fun while it lasted and I really enjoyed the kids and I've really enjoyed the effort that they gave and the things that they did to try and make us a better football team."
Rhoades went 2-0 against rival Sedona Red Rock.
He taught Spanish at CVHS and also coached at Mingus Union, Bradshaw Mountain, Payson and Desert Mountain.
Rhoades said he'd like to coach again after he moves.
"I'd like to coach," Rhoades said. "I haven't really looked at anything down there with any kind of real intensity. I've gotta secure a teaching job and once I get a teaching job, then I start to put feelers out to coach."