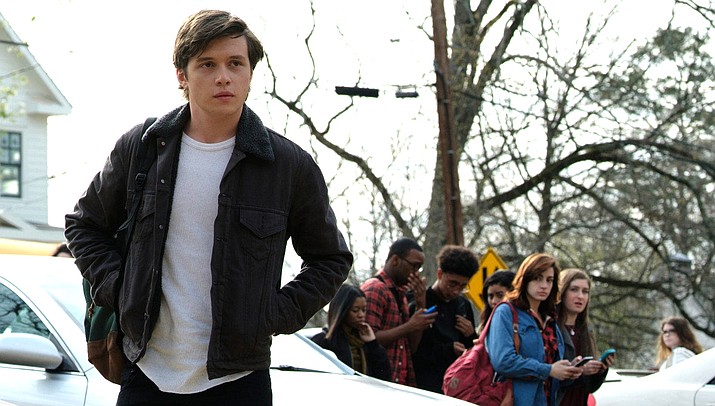 ---
---
Love, Simon is an appealing story about teenagers who are not being crushed by the usual adolescent inner turbulence. Their home lives seem OK and their schoolwork is satisfactory.
Simon (Nick Robinson) is a teenager, a high school senior, in an Atlanta community. He is a successful student with a group of close friends. Simon enjoys a loving couple as his parents and a younger sister whom he loves — but he won't tell her that.
The family is well-heeled financially, evidenced by the fact that Simon is given a new car for his birthday. Simon's close friends are Leah (Katherine Langford), Abby (Alexandra Shipp), and Nick (Jorge Lendeborg Jr.).
Nick and Abby are on the edge of becoming a couple, and Simon and Leah seem that way.
Leah is crazy about Simon, but he seems to be reluctant to romance her. We learn, from Simon in some voice-over talk, that he is gay. He hasn't revealed that to anyone — not his friends, teachers, parents — nobody. He knows he must out himself, but he isn't sure what will be the best time for that.
Simon receives an e-mail from an unknown person who is a gay teen, using the name, 'Blue.' Simon responds with the name 'Jacques.' They never reveal their true identities and they develop a strong loving relationship over time (kind of like Sleepless in Seattle).
One of the schoolmates, obnoxious and unpopular Martin (Logan Miller), intercepts some of Simon's e-mails with Blue. So, he knows and he threatens to expose Simon unless Simon will help him make a play for Abby.
Eventually, everybody learns of Simon's secret. He is shunned by his friends for a time until they realize that he is still the Simon they know and love. There are some sticky moments to overcome, but Love, Simon has a satisfying conclusion.
All the teen performers are very good in Love, Simon, and what a wonderful world it would be if all teens displayed kindliness and maturity as this group does.
As it turns out, we see that Simon's life is difficult because of his reluctance to reveal his secret. Once he is out, he and the others learn where a person's true value comes from.
The film is also well paced with humor and some pathos. Love, Simon keeps us interested in the subject of gay relationship because we care about Simon. Jennifer Garner and Josh Duhamel play Simon's parents.
Unlike his Mom, Dad takes a bit of time to accept Simon's revelation.
Tony Hale plays the school's assistant principal and he is morbidly funny as he continually belittles the kids. This is a film that is fun to watch and more than a little thought provoking.
Love, Simon is at Harkins Sedona 6 Theater.