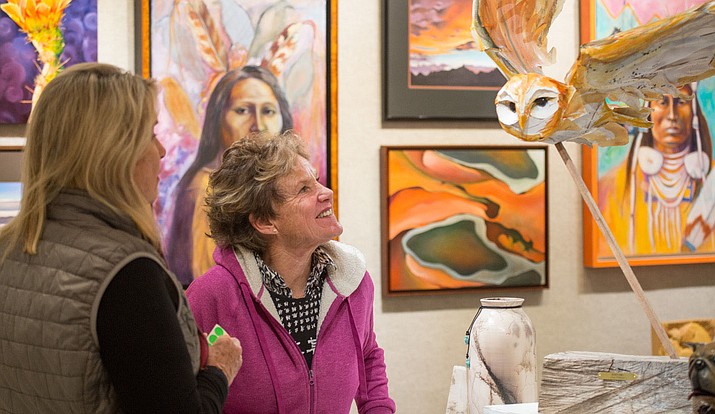 ---
---
The Sedona Arts Center has announced its 38th Annual Juried Members' Show Creativity Award Winners.
The community's largest and longest-running group exhibition of visual art is now on view in the Arts Center's Historic Art Barn through March 25. A special selected panel of local jurors from the arts community juried entries into the show. Nine Creativity Awards to both emerging and professional artists were awarded during the opening reception on Friday, March 2.
This year's judging was completed by local renowned artists: Betty Carr, Howard Carr, and Susan Kliewer.
Creativity Award winners include:  
• Stephanie Brand, "Cooling Off"
• Charles DeLay, "Comforting Arms"
• Camille Gearhart, "Flower Girl"
• Jude Kai, "Tango and Guitarra Base"
• Joyce Killebrew Barnett, "Barn Owl"
• Deanne McKeown, "Navajo Winter"
• Cheryl Waale, "Beyond the Veil"
• Janet Weaver, "Persimmons VIII"
• Deanne McKeown, "Pup and Saucer"
"This exhibition features emerging and well-established artists of all varieties," said Gallery Director Cyndi Thau. "It's an excellent opportunity to see a wide-range of creativity and talent of artists in Northern Arizona."
There's still time to see the show and take home your favorite work of art! Visitors will find everything from painting and watercolor to wood, jewelry, and fiber art.
A focus is also placed on drawing, mixed-media, photography and ceramics. The Members' Show is steeped in tradition and remains open to all current Arts Center members, whether seasoned professionals or new and emerging artists.
"In this, the Sedona Arts Center's 60th Anniversary year, the venue has been expanded to represent more artists and more individual works," said Executive Director Vince Fazio.
When you come to visit the exhibition be sure to cast your vote for your favorite work - at the end of the exhibition there will be an announcement of the "People's Choice" award winning artwork and artist.
The Center's Fine Art Gallery exhibits the work of over 100 local artists, and is open daily from 10 am to 5 pm.
The Sedona Arts Center is located at 15 Art Barn Road in Sedona.
Call 928-282-3809, our Fine Art Gallery at 928-282-3865, or visit SedonaArtsCenter.org.