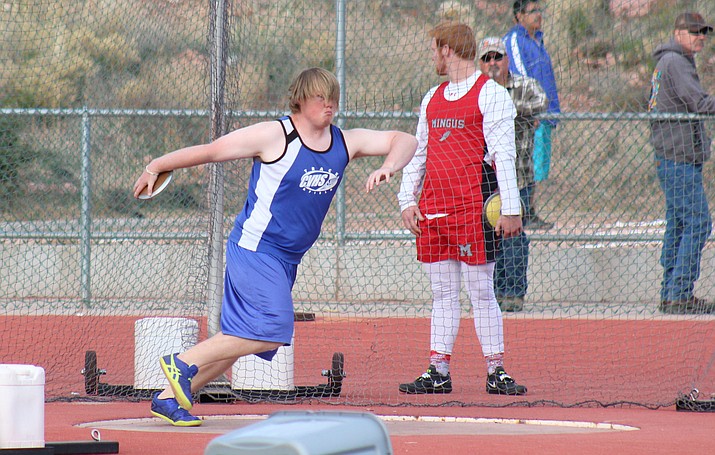 Originally Published: March 22, 2018 2:10 p.m.
Camp Verde High track and field returned to action at the Red Rock Multi-Meet in Sedona ahead on Tuesday.
Results were not available at press time.
"It went well we had a couple of season bests," said CV head coach Mike O'Callaghan. "All in all it went pretty well. A lot of the kids placed and scored points, which was good for them, they keep moving up the ladder."
The meet featured 13 teams, including the host, Sedona Red Rock, Anthem Prep, Chino Valley, Flagstaff, Grand Canyon, Mingus Union, Northland Prep, Payson and Prescott.
"Some people had PRs, I did OK, I don't know if I PRed in anything," said junior Christopher Holdgrafer.
Holdgrafer said he had some hiccups at the meet but this year he's mostly done well.
"I've been on track with things pretty much," Holdgrafer said. "There have been some mishaps like this meet I couldn't get my steps down for the jumps, so I didn't do too well on those but for the hurdles I'm about the same time, I think I may have improved in the 300s."
Holdgrafer will look to return to the podium at State this year.
He said this year he has been focusing on improving things he's already been doing rather than adding new wrinkles.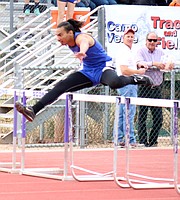 O'Callaghan said junior Eliana Paniagua ran well in the 400 at Sedona.
"Eliana had a really good step, just learning how to race," O'Callaghan said. "I mean she got out well, she raced really well, so that was a good thing."
Sophomore Benji Perez recently joined the track team and O'Callaghan was glad to see him back.
"He ran well (Tuesday)," O'Callaghan said. "He did a nice job, I'm not totally surprised because in the year and a half that I've known him, he's always been someone who's been very athletic and in shape, so to come and out and run pretty well wasn't a surprised but it was nice to see him out here."
The Cowboys' next meet is the Toro Invitational hosted by Mesa Mountain View on Mar. 29. They had a 13-day gap before the Red Rock Multi.
As of press time there are five schools in the Toro invite and they're bigger schools like Mountain View, Mesa and Prescott.
"We'll run against several of the Phoenix schools and it should be some good competition, considering it is a qualifying meet, so you'll have some people that are working to get some really good performances there and that always helps," O'Callaghan said. "The better competition you run against, the better you're going to run."