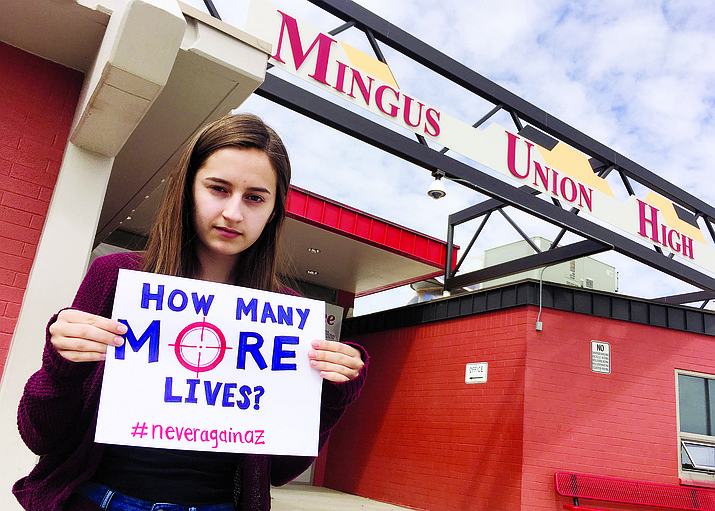 Originally Published: March 22, 2018 3:27 p.m.
Ask Mackenzie King why she's participating in Saturday's March For Our Lives event in Sedona, the 18-year-old Camp Verde resident says she's observing her constitutional rights.
And she's responding to the "absurd amount of mass shootings in schools."
"It is our civic responsibility to petition the government to redress grievances," the Mingus Union High School senior said. "And the loss of countless lives over the past 20 years alone to gun violence is undoubtedly a grievance."
King's grievance isn't against "all guns and firearms," she said. It's against "weapons like the AR-15 that were designed with the express purpose of killing mass amounts of people incredibly quickly."
King didn't think up March For Our Lives. Nor did she start Never Again AZ, which is connected to the #NeverAgain movement started by the students of Florida's Marjory Stoneman Douglas High School following the recent shooting that killed 17 students and injured 14 others.
But King didn't need to hear twice about the movement to become involved.
"When learning about these events, we tend to think that we are immune and that something like that could never happen here," King said. "But the harsh reality is that it can, and, unless we enforce greater regulations on the sale of assault weapons, it will."
March For Our Lives
In barely two weeks, Never Again AZ has raised more than $1,700 to put on Saturday's March For Our Lives, which begins at 2:30 p.m. with a rally in the parking lot of Sedona Red Rock High School, followed by a march down SR 89A in West Sedona.
According to King, Never Again AZ has invited Legislative District 6 representatives, "as well as those serving in the Arizona House of Representatives and Arizona Senate."
In a March 14 press release by local activist Kathy Kinsella, the Sedona march is one of "over 400 marches" that are scheduled to take place around the country and other cities across the world in support of youth marching on Washington D.C. on March 24.
The event, organized by Never Again AZ and the Sedona Action Network, will begin with a rally with various speakers, who will include speakers such as King, as well as other students, teachers and parents.
One of those parents is King's father. Steve King, superintendent at Cottonwood-Oak Creek School District, is still working on his speech, he said Wednesday. But he did say his opposition is not solely about guns.
"It's about child welfare," Steve King said. "Child welfare in this state is pretty dismal. It's a reflection of our priorities in this state."
The rally will be followed by a march into West Sedona. According to another of the event's organizers, the community "must protect our kids, so it makes sense to march into the commercial district."
"School safety isn't a political issue," stated Ellen Ferreira of Sedona Action Network. "We need common sense change. We need to listen to these kids."
'Fearful and weary'
For Mingus Union senior Jeffrey DeLong, being "very fearful and weary by these violent acts" is why he is involved in the Sedona march.
"We cannot continue to attend school under these conditions," DeLong said. "Students shouldn't have to feel scared to attend school because there could easily be a shooting. We need to stop circling around the issue and enact some laws to prevent this from continuing. That's why we're here. That's why we're doing this."
More information is available through March For Our Lives organizing partner Women's March Sedona. Contact them at womensmachsedona@gmail.com.
Also visit www.facebook.com/neveragainaz.
At 2 p.m., a bus will leave from Mingus Union High School to transport people to the March. Text @98bcdh to the phone number 81010, to reserve a spot on the bus.
According to the Kinsella press release, there have been six school shootings since February where a gun was discharged and victims were either injured or killed.
"Every right that we possess as citizens or residents of this country is regulated, even freedom of speech," Mackenzie King said. "So it logically follows that the right to bear arms would be regulated as well, especially considering the preventable fatalities that we have suffered in recent years."
-- Follow Bill Helm on Twitter @BillHelm42