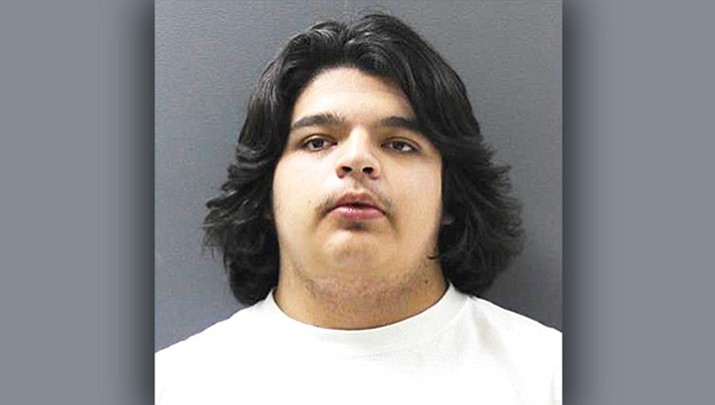 Originally Published: March 24, 2018 4:52 p.m.
A man who pleaded guilty to second-degree murder for a shooting death in Rimrock was sentenced to 30 years in prison Wednesday.
Hector "Alex" Alejandro Miranda's turned 19 on Thursday. He was 17 when he shot 24-year-old Jarrod Rogers in October 2016 at Rogers' home in Rimrock.  Miranda was charged as an adult.
Miranda was discovered by police after he checked into the hospital for a gunshot wound to the leg following the incident.
Rogers and his wife, Amanda Harbeson-Rogers, had been married six months at the time of the shooting. Harbeson-Rogers cried as she addressed the court during sentencing.
"I have to get counseling and be on medication most likely for the rest of my life. I will never forget or forgive what happened that horrible night…[Miranda] took my best friend and my husband, he took a son, a brother, an uncle, a grandson, and a part of me that I will never get back," she said.
The victim's mother, Robin Rogers, read to the court her statement to Miranda.
"You've been given another chance to make your parents proud of you by making the right choices in prison," Rogers said, directing her comments to Miranda. "I think you need to come out of prison a better person than you're going in…I'll tell you, it's been very hard, but I do forgive you for what you did. I know as a mother I would want [that] forgiveness for my child."
The range of sentencing was a minimum of 25 and a maximum of 35, according to the to the plea agreement.
Prosecutor Patti Wortman told the court the State believed an aggravated sentence was appropriate and suggested 25 years for the second-degree murder charge and a consecutive sentence of 10 years for the aggravated assault of Amanda Harbeson Rogers.
Defense attorney Jonathan Cochran told the court Miranda "acted out on wanting to get money to help his dad from people dealing drugs from other people at the residence, another residence on the property to be clear." Cochran requested the 25-year minimum sentenced.
"I'd like to apologize to all the victims in this case but especially extend my apologies to Jarrod's mother, father and wife. I understand there are no amount of words that will relieve that pain and sorrow my actions have inflicted. I hope and pray one day you will be able to forgive me just as God has," Miranda told the court.
Judge Michael R. Bluff found the emotional harm to the victim's family to be an aggravating factor in the second-degree murder sentence.
Bluff sentenced Miranda to 30 years in prison; 25 years for the second-degree murder charge and five for the burglary, consecutively. Miranda was also sentenced on kidnapping and burglary charges to run concurrent with the 30 years.
"I agree with everybody that it's a tragedy that… we're all here today. Mr. Miranda has received a gift from the victim's mother and I appreciate that," Bluff said.
Bluff thanked both and Rogers' and Miranda's family members for being in court.
"It's upsetting, I wish he could have gotten more years, but I still got justice for Jarrod," Harbeson Rogers said. "…This has changed not only my family's life and Jarrod family's life, it changed that kids' families' life –- it's changed a lot of people."
An earlier version of this story included a misspelling of the victim's name. This version of the story has been updated with the correct information.
-- Follow Halie Chavez on Twitter @haliephoto
Related Stories