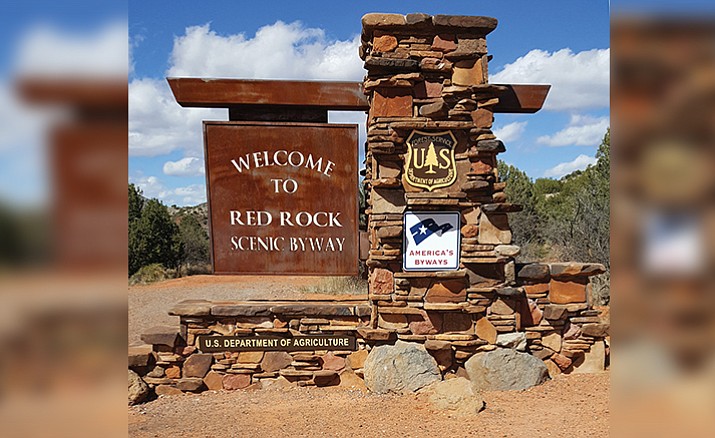 When State Route 179 was designated the Red Rock Scenic Byway and an All-American Road by the US Dept. of Transportation in 2005, the All American Road Committee was assigned two things:
• A program of matching grants from the Highway Trust Fund for approximately 10 years to "encourage economic development and protection" of the Byway's scenic & recreational values, and;
• Tasked with "preserving and enhancing in perpetuity the unique scenic and recreational values of the Red Rock Scenic Byway through self-sustaining stewardship and programs to enhance the traveler's experience."
The AARC immediately started working on a County road enhancement grant to put in lighting, landscape, sidewalks, benches and bike racks throughout the Village portion, started up a website, Facebook page, TripAdvisor page, and eventually put up beautiful lightpost banners that line the byway in the Village. They'll be refreshing these banners soon.
Through judicious budget management, the All-American Road Committee (AARC), a 501c3 organization, was able to make these grants last longer than 10 years.
But dollars are running out. Continued management and the financial requirements of the Red Rock Scenic Byway will soon fall exclusively on our local AARC.
This creates a necessary opportunity for local businesses and individuals to consider sponsoring the Red Rock Scenic Byway through the Byway's website and related online presence.
As Village locals, we've come to know the breathtaking views of Bell Rock, Courthouse and Cathedral Rock all too well. They are a part of our everyday backdrop in the Village of Oak Creek and a reminder of just how lucky we are to be here.
And yet, as familiar as we are with Highway SR-179, there are still many unfamiliar with its history and beauty. This gateway stretch is, in fact, the historic Red Rock Scenic Byway.
In addition to being a recognized National Scenic Byway, it was the first All-American Road in Arizona and still one of fewer than 40 in the entire USA.
As the "Gateway to Sedona's Red Rock Country," the Byway is a stretch of road with TripAdvisor visitors ranking it #2 out of 159 attractions in all of Sedona. The Byway is also one of the top check-ins, with 2,794 likes and a 4.9-star rating on Facebook. It is truly the heart of our "city," our "Main Street" and the backbone of tourism in our town.
Please consider sponsoring the Red Rock Scenic Byway to help continue the All American Road Committee's mission. Sponsorship is open to all individuals and businesses. For the different levels of sponsorship and details regarding sponsor recognition and benefits please check out the Red Rock Scenic Byway's website at www.redrockscenicbyway.com or email sponsorships@redrockscenicbyway.com for more information.
More like this story