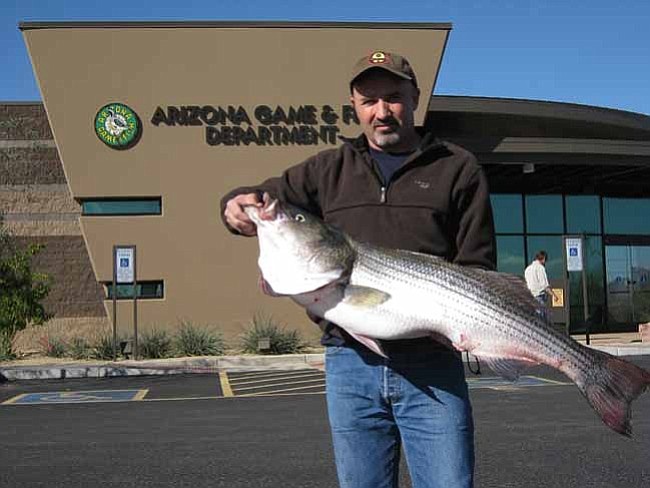 Originally Published: May 1, 2018 11:21 a.m.
The top options for bass fishing in the area remain Lake Pleasant for striped and largemouth bass, Bartlett Lake for high numbers of largemouth bass, Roosevelt Lake, and, at the right time, Saguaro Lake.
We are aware of golden algae that's present at Apache, Canyon and Saguaro lakes and have been doing fish surveys as well as water sampling at these lakes.
Many fish at these lakes likely are stressed and congregated into areas with better water quality, and so we are asking anglers who are releasing fish to release them where they are caught.  As always, it's crucial to "clean, drain and dry" when leaving any lake.
Canyon, Saguaro, Apache lakes report
Rick from Liar's Korner Bait & Tackle said even guides are having trouble catching fish and Saguaro is producing the best bass fishing, especially during early mornings.
"The guys who are catching fish, it seems like you've got to be in the right area at the right time," he said. At Saguaro, he said some anglers have had luck during the early morning targeting busting shad using shad-colored swimbaits, soft jerkbaits and top-water Ricos.
Roosevelt Lake report
Jim Goghnour of Rim Country Custom Rods reported: The water level is falling at Roosevelt Lake and currently stands at 56-percent full. The water level has dropped slightly over two vertical feet since the beginning of April.
The flows into the lake from the Salt River and Tonto Creek are at dangerously low rates. The Tonto Creek has stopped flowing and the Salt River is flowing at 132 CFPS or just 12 percent of its normal rate for this time of year.
Exacerbating the problem is the water temperature, which is reaching into the mid 70's. These conditions have many experienced anglers and AZGFD personnel worried about the impact this will have on the fishery. The slow water flows and high temperatures will lead to algae blooms, which can kill lots of fish in a short period of time.
The falling water level will have an affect on spawning bass and crappie, which will abandon spawning beds if the water becomes too shallow or doesn't provide the needed protection. Anglers who have fished Roosevelt Lake for decades are saying that they don't recall ever the extreme drought conditions we are experiencing this year.   
The high winds have subsided and the water clarity is increasing each day. Many bass are transitioning to a late spring, early summer pattern and are being caught in 15-25 foot depths.
Anglers are reporting great success on a drop-shot, Texas-rig and a Senko artificial worm. Reaction baits such as a paddle-tail swim-bait, chatter-bait, spinner-bait are also catching lots of bass in the 1- to 2-pound range.  
Crappie anglers are reporting success on John-Deere and black, blue and chartreuse colored curly tail grubs fished on a 1/16 to 1/32 oz. weighted hook. Live minnows are also being reported as successful by crappie anglers. Large numbers of crappie are still spawning, but many are moving to deeper water in large schools.
Knoll Lake trout stockings suspended as Tinder Fire rages
The Page Springs Hatchery will not be stocking Knoll Lake, located northeast of Payson along the Mogollon Rim, until the Tinder Fire is out.
The fire originated on April 27 about 1.5 miles northeast of the Blue Ridge Reservoir in Coconino County. Blue Ridge has very low water levels and there are no plans on stocking it this year.
--Information provided by Arizona Game & Fish