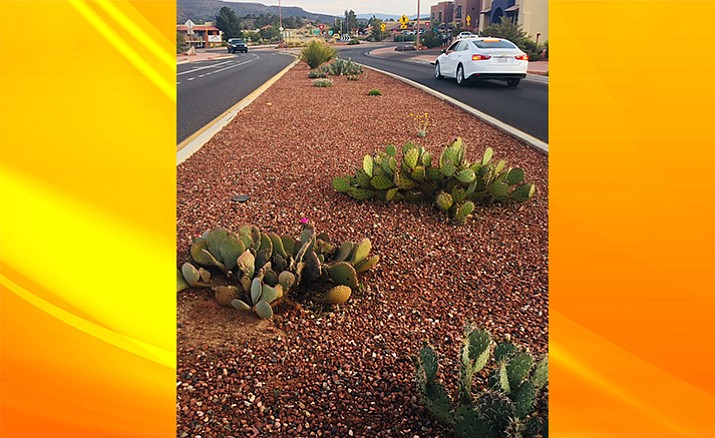 Originally Published: May 2, 2018 11:42 a.m.
The Red Rock Road Enhancement Maintenance District (RRREMD) Board met on April 18th to discuss maintenance responsibilities along SR-179 and to review a proposed FY2018/19 budget.

Under maintenance, items discussed included:
• The current condition of weed growth. The landscape contractor has been using Weed Zap on weeds in the RRREMD landscape since last September and has found that while it works, it requires multiple applications and does not kill the roots, so sprayed weeds can come back.

Weed growth is noticeable right now because in order for Weed Zap to be effective, it needs some leaf area to catch the spray and burn the plant (whereas RoundUp could be used to kill the plant and roots when they first appear). During this fiscal year, $5,000 was allocated to using Weed Zap and to date, about half of those funds have been expended. No spraying was done during the winter months and since it's been dry, weed growth has been minimal – until now! It is anticipated that all of the funds will be used prior to the end of the fiscal year so an additional allocation of $2,000 was approved to be sure there was sufficient funding to continue the program until June 30th. You will know when Weed Zap is being sprayed because the RRREMD landscape along SR-179 smells like cinnamon buns!
• Repairing several areas of erosion from storm waters that need the rock replaced. ADOT and Yavapai County met representatives of the RRREMD Board recently to review the areas and discuss options for resolution. ADOT offered rock, but it was a pink granite that the Board declined to accept because it does not blend with other rock in the RRREMD.
The Board also reviewed a proposed Budget for FY 2018/19 of $209,710. This compares to a budget of $230,522 for FY 2017/18. The Board was able to trim some costs based on history of District expenditures and $9,000 was allocated to the Weed Zap weed control program. The mil rate will not change for the next year. The Board will hold a public hearing to approve the budget on May 15th at 2 PM at Fire Station #3.