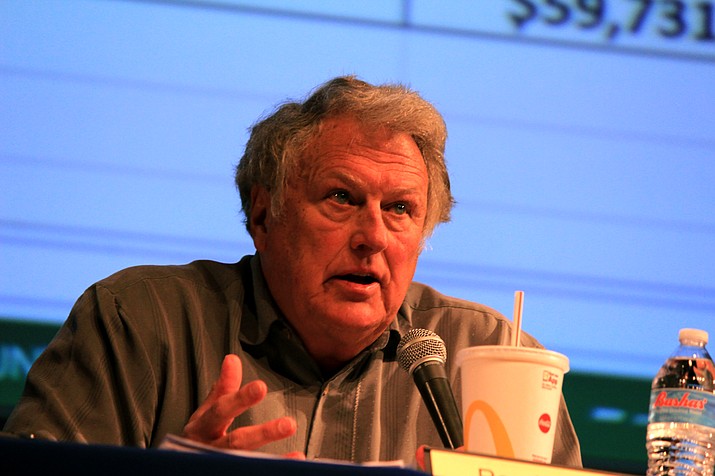 SEDONA -- The Sedona-Oak Creek Unified School District Board voted 4-1 to close Big Park Community School Tuesday as members of the district try to address a foreboding $1.4 million debt due in part because of declining enrollment and state funding.
There were jeers in the crowd as the board voted.
"There's nothing unified about your district," said one member from the audience.
Tensions were high throughout the meeting as one board member, Karl Wiseman criticized Board President Randy Hawley for his leadership.
"We should have been talking about [school closures] 12 months ago," he said. "People are leaving the district ... teacher morale is at an all-time low ... there is an unstable image within the district."
Hawley rebutted by saying the board needed to communicate and work together.
"I can't think of one possible positive impact of criticizing another board member," he said. "I should be honored that you think I have as much power as you gave me credit for."
Hawley, who was the single dissenting vote, said that although he would have liked to have seen Big Park remain open, he would work "as hard as anyone to make this better for the kids."
"None of us should be enemies in this," Hawley said. "I hope we will all stay committed."

For the past several weeks, the district has been weighing cost savings of either closing Big Park or West Sedona Elementary School.
This isn't the first time the district has faced the issue of closing one of its schools. Two years ago, Sedona Oak-Creek considered closing Big Park as a cost-saving measure but due to significant outcry from the community, it remained open. This time around, members of the community have once again voiced their dissent in closing Big Park but the Village of Oak Creek will still be losing its school.
Hawley said he would have preferred to keep Big Park open because of its International Baccalaureate program. Other members of the board argued that keeping West Sedona open would make more logistical sense since two-thirds of the students are in West Sedona.
"I don't see the argument in keeping Big Park open," said Wiseman. "I want to see the [Big Park] staff come over to West Sedona."
According to estimates by finance manager Heather Shaw-Burton, the cost savings in closing a school is around $300,000. The board all agreed however that the cost savings are only a short-term solution.
"This is only the beginning," said board member Karen McClelland. "I hope everyone here stays involved. There are a lot of opportunities for us here but everyone has to be involved."
Some of the next steps involve rebranding the district to make it more appealing to families.
Board member Heather Herman said she wants to focus on a "cohesive structured plan."
"We should have a K-12 plan," she said.
-- Follow Kelcie Grega on Twitter @KelcieGrega