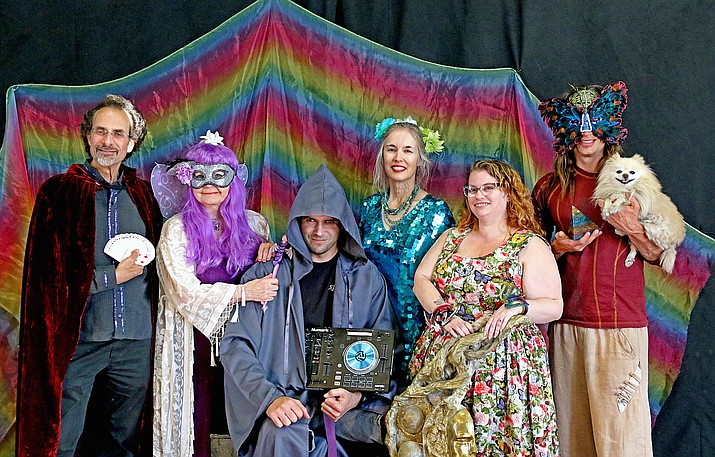 ---
---
The Sedona Hub becomes a world of Fantasy and all things magical, with a free community event for the entire family from 11 a.m. to 7:30 p.m. on Saturday, May 12th. Wear your favorite fairy, dragon, unicorn, witch or superhero costume and come play with the magicians, circus arts folks, tarot readers and others.
Following a fire-dancing performance in the skatepark at 7:30, the Hub will reopen with August West's 'Acoustic Trio' live concert celebrating Americana Music from 8-10 p.m. ($10 at the door).
 DJ Eagle One (Craig Eagle) holds the magical center at the outdoor stage presiding over performances from musicians including Hank Levine, Matthew Lawrence, Gordy Brown, Ryan Biter and JR Robusto.
 Also taking the stage will be local magician Michael Steele, Brian Atkins inspirational rap, and belly dancers Cassie Mavis and Tiffany Grimm. Amalia Camerteros performs "EarthSpirit Dance, from Earth to Sky," and also offers a 'play' shop at 5:30 p.m. for only $10.
 Other activities include a Druid animal card reading Demonstration at 11.30am followed by a 'play' shop' given by Gordon Freeman Brown with music, movement and activities for children at Noon. Try the circus arts 'play' shop with hooping belly dancing at 1:30 p.m.
Adding to the ambiance will be wandering magicians The Optimystics (Robert Gray and Robert Ray) with hand-made wizard hats, magic wands, magic tricks, & close up magic, as well as the Circus Bacchus folk.
 Food options throughout the day and early evening include The Turquoise Kitchen, Penny's Place and Mexican food from Bombaz. SAHA will offer baked goods for the sweet tooth.
 Watch as DruzyDredz, the featured Visionary Graffiti Artist, creates a mural facing the skatepark, and try your hand at the interactive outdoor art wall with Marita, (chalk artist) and other hands-on artists.
 Inside the Hub browse the beautiful crafts and specially selected items from Walker Marchal (Mermaid Heaven), Brandon Strabala (Orgon Knight), Suzanne Taylor-Torres (Essential Oils & Inspirational items), Linda Mae Costello (Druid Animal Card Psychic Readings), Sebrina Mertz Shaw(Essential Oils products, stone bracelets), Stuart 'Living in Mandorla' (clairvoyant), and Jolene Hutto (Dragon pets (wearable), jewelry) among others.
 The day's activities close at the 7:30 p.m., witching hour at the skatepark with a performance by the fire dancers Circus Bacchus from Flagstaff, before August West's concert begins at 8 p.m.
  Check out the website  www.sedonahub.org (Fantasy Faire) for more information, come on by and see what is happening, bring the whole family to create magical time with Mom before her special day.