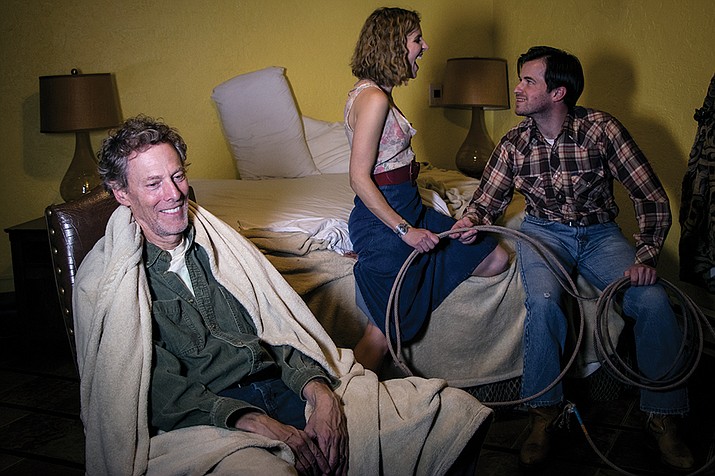 ---
---
Flagstaff Shakespeare Festival is remounting their special engagement performance of Sam Shepard's Pulitzer Prize-nominated Fool for Love in Jerome. This show selection is a celebration of the late American playwright and explores themes of identity, western culture, and rootlessness. Locally-acclaimed talent Dawn Tucker and Gavin Buckley take the stage as the lead roles of May and Eddie.
Fool for Love is a relentless, no-holds-barred, doomed-from-the-start story of feuding lovers.
Set in a dingy motel deep in the American Southwest during the 80s, the drama between May and Eddie unfolds, leading them down an inevitable path of sorrow and heartbreak.
The lovers are as desperate as their Mojave Desert setting as they wrestle with inescapable familial patterns of misplaced hope in the face of self-destruction.
Throughout their struggles with destiny, the subtly surreal commentary provides a glimpse into the tragic pasts and aimless futures of the two protagonists.
Incredibly tender and fraught with consequence, the dualistic and conflicted relationships explored in Fool for Love are as universal and familiar as the cowboy boots that tread the stage.
"Fool for Love is a kind of existential boxing match." -The New Yorker
Fool for Love opens on May 11 and runs through May 13, 2018. Performances will be at Jerome Art Center in Jerome. Tickets start at $24 and are available to purchase by phone at 1-800-838-3006 or online at flagshakes.org.