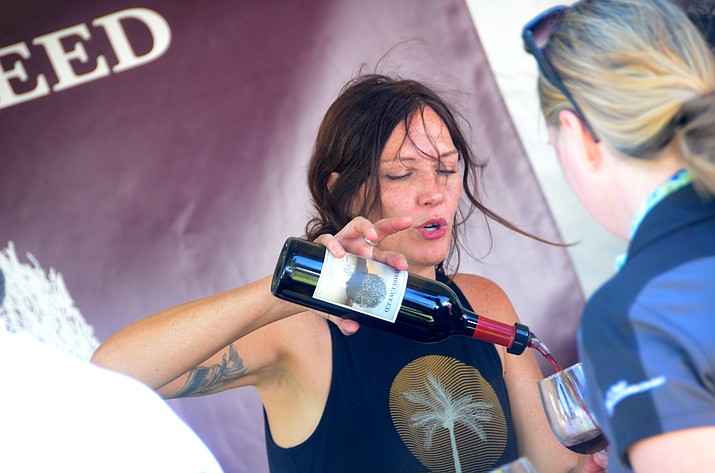 ---
---
Four Eight Wineworks presents the return of the Verde Valley Wine Festival on Saturday, May 12th. This year the event takes place at the Historic Downtown Clarkdale at the Town Complex, 39 North 9th Street.
The Verde Valley Wine Festival winery list:
Arizona Stronghold
Bodega Pierce
Burning Tree Cellars
Caduceus Cellars
Callaghan Vineyards
Chateau Tumbleweed
Dos Cabezas
Four Eight Wineworks
Garage East
Merkin Vineyards Tasting Room & Osteria
Oddity Wine Collective
Passion Cellars
Rune Wines
Saeculum Cellars
Sand Reckoner
Southwest Wine Center
Festivities for Platinum VIP holders begin at the wine dinner event Friday, May 11th from 6 p.m. to 9 p.m. The main event on Saturday begins at noon for general admission and 11 a.m. for VIP ticket holders. VIP holders will also have access to the VIP Lounge in the Clarkdale Clubhouse.
Local wine, beer and food
The Verde Valley Wine Festival focuses on locally made wine, but also includes local food and beer vendors. More than 40 vendors will be at the event.
There will be sixteen wineries at the festival – no less than previous years despite the smaller venue – all of Arizona winemaking companies.
The festival will premiere the new Merkin Food Truck, which will serve pizza. Other food options include Colt Grill, Mine Café and Scott's Main Street Café. There will be thirteen total options for food.
Currently, there will be three breweries for those that take beer over wine: Four Peaks Brewing, THAT Brewery and Uncle Bear's.
Live music
The festival will feature three groups of Arizona musicians, each with their own spin on jazz.
"We've got some pretty great bands – all these bands are coming up from Phoenix and Tucson," said Baird.

Fred Boswell, Jr. was a finalist on Guitar Center's 28th Annual Drum-Off in 2017. Originally from Milwaukee, Wisconsin, Boswell Jr. wide range of styles is famous in the drumming world.
What's The Big Idea is a 3-piece jazz band from Phoenix that frequently plays across the state.
House of Stairs, another Phoenix-based band, describe their sound as a combination alt jazz, soul, pop-funk band.
Tickets
Partial proceeds from the event and ticket sales benefit Clarkdale Foundation and fellowship programs at Yavapai College. There are three tiers of admission: General admission, the VIP Experience and the Platinum VIP experience. General admission price will increase from $35 to $45 the day of the festival. Tickets are available at: www.verdevalleywinefestival.com/tickets