3 suspects arrested in Cottonwood following weapons offense
Originally Published: May 8, 2018 9:10 a.m.
COTTONWOOD – Three suspects are in custody on drug and weapons offense charges following a high-risk traffic stop on Black Canyon Day Use Road and State Route 260, Sunday, according to a Yavapai County Sheriff's Office media release.
On Sunday afternoon, deputies were called to the 2300 block of Arrow Drive in Cottonwood regarding a weapons offense, said YCSO spokesman Dwight D'Evelyn.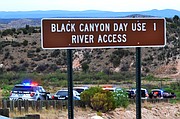 "Initial reports indicated that a dog had been shot, he said. "At the residence, a woman told deputies a gold-colored vehicle with three males inside approached her home."
D'Evelyn said the woman's friend was sitting in a car parked on the driveway when one of the men in the gold car jumped out of the vehicle and started waving an apparent handgun. He ordered the woman's friend out of the car.
According to the media release, the gold car eventually left. The victim also drove away. Deputies eventually located the gold vehicle and conducted a traffic stop at the Black Canyon Day Use Road and State Route 260 intersection.
"The vehicle drove several hundred feet before finally stopping," D'Evelyn said. "Based on information that the occupants of the vehicle were armed, deputies conducted a high-risk stop."
As YCSO deputies gave commands, one of the passengers held a gun outside the car window, according to the media release. Assistance from other law enforcement arrived and the occupants were eventually taken into custody.
The driver was identified as 21-year-old Christopher Lopez-Contreras from the Village of Oak Creek. The other two passengers were 26-year-old Eduardo Lopez from Cottonwood and as 23-year-old Christopher Brazle, also from Cottonwood.
After conducting a search of the vehicle, officers found four grams of cocaine in a baggie in the center console, said D'Evelyn. The weapon was later identified as a pellet gun.
"Lopez attempted to conceal small baggies of drugs in his mouth," D'Evelyn said. "They were seized by deputies and tested positive for meth and heroin. The victim identified Lopez-Contreras as the suspect who threatened him with the gun."
It was later revealed that the initial victim had struck and killed the reporting party's dog when he initially drove way, according to the media release. Deputies are still investigating the relationship and motive regarding the suspect and victim's actions.
Brazle was charged with Possession of a Dangerous Drug. Lopez-Contreras was charged with Threatening, Possession of Dangerous Drugs, Misconduct Involving Weapons and Unlicensed Driver. Lopez was charged with Possession of Dangerous Drugs.
All suspects remain in-custody – each on a $7500 bond.
-- Information provided by the Yavapai County Sherriff's Office
More like this story
SUBMIT FEEDBACK
Click Below to: