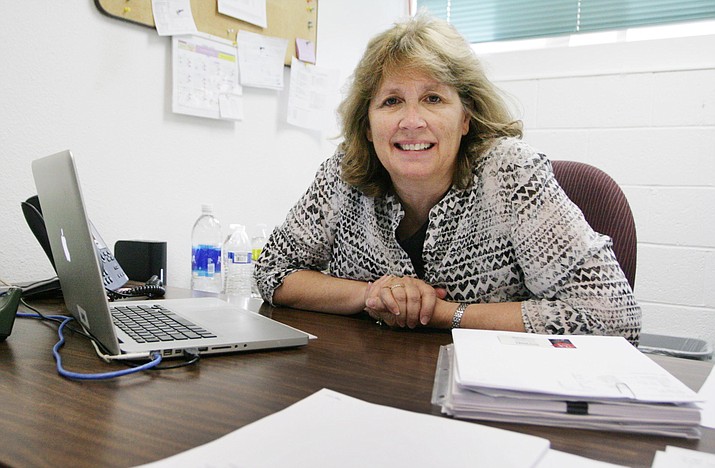 Originally Published: May 8, 2018 12:39 p.m.
COTTONWOOD – It took Pam Miller about a dozen tries to compose her resignation letter. But retirement, the publisher of the Verde Independent and the Camp Verde Bugle said, was about keeping a promise she once made to herself.
To retire at 55, Miller said, was her goal. Though she missed her target date by almost two years, Miller had plenty of discussions with her husband, Len, and her best friend, Daurice, before she made her decision official – and irrevocable.
"This has been my life," said Miller, publisher of the two Verde Valley newspapers since 2004.
Management
It wasn't very far into her newspaper career – barely a year – when Miller knew she'd be in management.
An advertising sales representative at the Daily Courier in Prescott back in 1984, Miller was barely two years out of journalism school at Northern Arizona University when she applied to be her paper's advertising director.
Though someone "more experienced" was chosen, Miller became his second-in-command.
"I've been managing people since I was 23 years old," she said.
Daurice McMillan remembers when she met Miller. McMillan, now the tax representative for Gilpin County, Colorado, was hired by the Courier in 1984. Still a sales representative, Miller asked her to lunch one day.
"From day one," McMillan said she knew that Miller wasn't the average co-worker.
"She always had answers," McMillan said. "Opinions are sometimes a bad thing. But hers were a good thing, a guiding thing."
Miller eventually became the Courier's advertising director. And she stayed in that role until 14 years ago when she was promoted to publisher of the newspaper organization's two Verde Valley newspapers.
"Being publisher of a small community newspaper was my dream," said Miller, who retires on May 18 after 35 years in the newspaper business.
Great community
When Miller arrived on the job in Cottonwood, she knew that she "had been blessed with an awesome opportunity to be involved in a great community."
"The business leaders and community members had a common goal — to care for their neighbors and build on an already wonderful community," Miller said.
With "niche publications, 24-7 news coverage, digital advertising," Miller said that she has watched both the Independent and Bugle newspaper grow "in so many directions."
"We continue to be the number one news source for the Verde Valley, growing our relevance each day," she said.
Aspirations
As a small child, Miller first entertained the idea of being a teacher.
"I think I loved my second grade teacher," she recalled.
But Miller changed her mind while in high school. She signed up for a journalism class and found encouragement from the newspaper's adviser.
That boost of confidence played a role in Miller enrolling in the journalism program at Yavapai College, where she eventually served as both the newspaper editor and the magazine editor.
At NAU, she discovered that though she enjoyed writing, maybe her aspiration outweighed her ability.
"I decided that advertising and marketing was what I wanted to do," Miller said.
As it turned out, the university had an advertising emphasis in its journalism program.
Taking lead
To Miller, leadership is about "taking responsibility for our staff."
"I've always managed with the idea that we're a team," she said. "I like to create a cohesive team, to encourage people to have empathy, to stand in someone else's shoes and understand them.
It's not just that Miller wanted to be publisher of a newspaper, but that she wanted to publish a small-town newspaper.
"I had no aspirations to publish a larger newspaper," Miller said.
But being a newspaper's publisher after a career in advertising was a "new adventure" for Miller.
"It meant an opportunity to grow in my position, an opportunity to expand what I'd always known," she said.
Miller said that Western News&Info, the parent company of the Independent and the Bugle, has been "a wonderful company to work for, always providing me with one opportunity after another to learn and grow in the publishing business."
The buzz
"The buzz of the newsroom" is what Miller said she will miss most when she wakes up the morning of Monday, May 21 and is not in the employ of a newspaper.
"You hear everything that's going on in the community," Miller said. "In the newspaper biz, you're always in the know of things. I'm going to miss being in the know of things."
Western News&Info has selected Advertising Director Babette Cubitt to succeed Miller as publisher. Already at the Verde Independent offices in Cottonwood, Cubitt said that Miller is "an outstanding leader who immersed herself in the community."
"She definitely has a deep love and affection for this community," Cubitt said. "If I can match her love of this community, that would be my desire."
-- Follow Bill Helm on Twitter @BillHelm42
More like this story