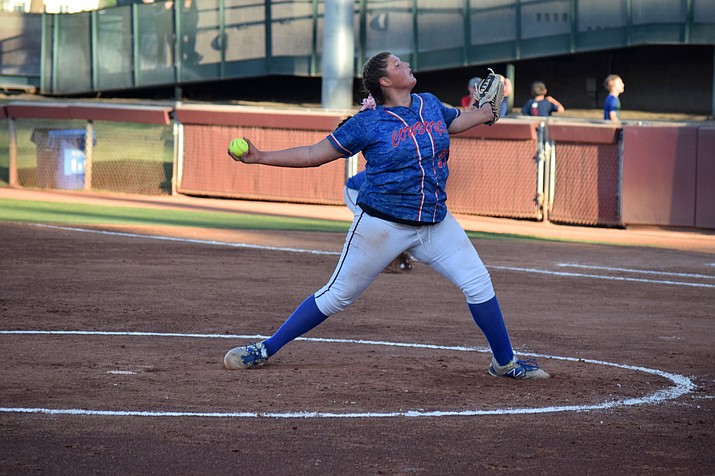 Originally Published: May 10, 2018 3:13 p.m.
TEMPE — Of course there were tears shed after Camp Verde High softball lost in the state championship game to Benson.
Of course there the Cowboys were sad but dismay, anger or determination seemed like the predominant reactions that they had.
There probably wasn't a lot anger, they certainly weren't robbed or anything, the undefeated Bobcats were the deserved winner but by in large the Cowboys just didn't look as sad as teams usually do after they lose their final game.
It seemed like the young Cowboys were already plotting how they would not only get back to the title game, but how they would get over the hump.
It's not exactly a bold prediction to announce they'll make it back to the championship game, they return almost their entire team, but the final actually inspired confidence that they would.
Sure they're young, but they're quite poised.
Before the season started I was disappointed to hear that they would be so freshman heavy. Since they made it to the semifinals in 2017 led
Photo Gallery
Camp Verde Softball State Championship Game 050818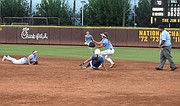 Benson beat Camp Verde 7-3 in the 2A state championship game on Tuesday at ASU. (VVN/James Kelley)
by a freshman pitcher I assumed they would make it the final this year but when I learned they had so many freshman in prominent roles, I wasn't so sure.
I sent my sister a photo of the team with the second place trophy and she said that some of them looked like they're 8 years old. She's a teacher, so she's around kids a lot.
However this season they played beyond their years. They got big hit after big hit in the state tournament.
After the game the Cowboys and head coach Henry Smith said they did have some nerves at the beginning of the game, but even as things were all going wrong they still showed poised.
At the start of the game sophomore pitcher Jacy Finley overthrew the first baseman on a routine play. Instead of letting it get to her and becoming a worse situation, she struck out the next Bobcat.
Later in the game when freshman shortstop Jenna Huey missed the ball after a bad hop, she responded on the next batter by diving to knock the ball down and keeping it in the infield.
Plus those mistakes they had Tuesday night actually shows promise. Benson jumped ahead 7-0 but wasn't because they were dominant. They were good to be sure, but they picked up a lot of runs and runners via Camp Verde mistakes.
Good teams like the Bobcats jump on miscues from their opponents and cash those in as runs. Camp Verde did that earlier in the tournament a bunch of times.
If you commit four errors (plus a bunch of miscues that didn't go down as errors) you shouldn't expect to win and yet Camp Verde wasn't done and dusted until the third out in the seventh inning.
Camp Verde wasn't outclassed by the undefeated defending state champion, which is inspiring. If they clean up those mistakes, then it's a lot closer than a 7-3 game.
Camp Verde softball at State
champions: 2009, 1981
runners up: 2018, 2016, 1995, 1994, 1992, 1991, 1989, 1987, 1982, 1980
When it was 7-0 and Benson had put up crooked numbers in three of the first five innings, then it looked very bad for the Cowboys.
However, Camp Verde rallied in the sixth and made it 7-3 and could have caused even more damage. The message from the Benson dugout was constantly "relax," "relax," as if the Cowboys had hit a nerve and the Bobcat coaches could see it get worse.
Standing there next to their dugout it felt like a bully that was used to beating people up was suddenly bloodied and was trying to avoid panicking.
For Camp Verde, it would have been very easy to give up when they were down 7-nil but the Cowboys showed a lot of mental strength to keep fighting.
In any situation that would be tough but it had been a long time since Camp Verde had faced real adversity, they had won 15 games in a row and were undefeated in conference games. It's probably easier for a team that's struggled to fight back in that situation than a team that has dominated for weeks to do that.
After the game Smith said that they'll be back in 2019 and 2020 but that they need to find a way to get over that championship hump. The perennial region coach of the year is quite fair in interviews, he's not afraid to criticize the team when they win by 20 runs and says what they need to work on.
I didn't expect him to say they blew their chance or anything but he seemed so sure that they would be back in the final game next year.
With 10 freshmen or sophomores, Camp Verde should be back soon and this time they have that experience of playing in the big time college softball stadium. Benson obviously had that, since they won the championship last year but there weren't many Cowboys returning from that 2016 state runner up team.
Now they have that experience and got through that awe of playing in a Pac-12 stadium.
Camp Verde returning to the title game seems about as likely as it being hot in Phoenix in May.