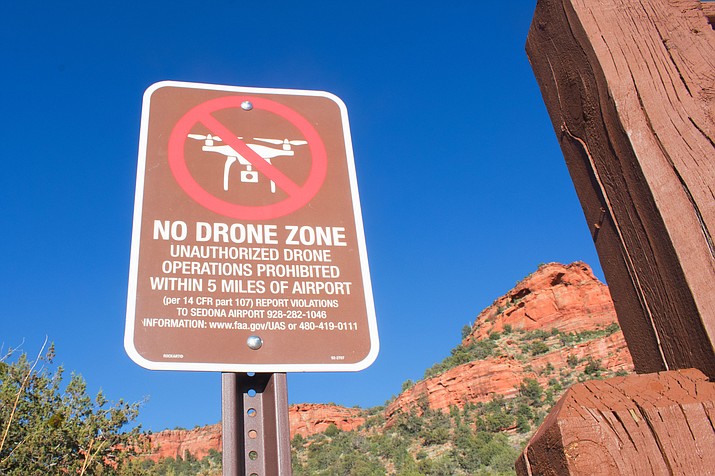 Originally Published: May 12, 2018 12:36 p.m.
JEROME -- Tuesday night, the Jerome Council discussed a problem tourist towns across the country have faced – controlled planes and quadcopters, known more commonly as drones, flying over their homes.
Council member Hunter Bachrach sponsored the agenda item and proposed signage notifying drone hobbyists to follow State law.
The regulation of drones by towns, cities or counties is prohibited by ARS 13-3729. However, drone operators looking to fly over Jerome do require authorization from the Cottonwood Airport.
Authorization from the airport usually requires drones to remain under 500 feet – Bachrach and Vice Mayor Jay Kinsella expressed concern that too often drone hobbyists don't know the protocol and fly without permission.
"We wouldn't deny anyone their rights – but we can educate," Bachrach said. "What little we can do I feel we ought to do."
Sedona has "No Drone Zone" signs posted near the Sedona Airport and near local trailheads. Operating, launching, or landing a drone on designated Wilderness Area lands is illegal.
The signs proposed by Bachrach would follow a similar approach as the Sedona signs by notifying drone pilots of the nearby airport.
Council member Lew Currier, noting he liked the idea of signage, questioned how much the signs would cost. Bachrach estimated they would cost a "couple hundred bucks."
Police Chief Allen Muma says incoming calls on drones are "pretty much a constant."
"I can't say I haven't been annoyed a drone flying 50 feet over my house. You always hope people will be responsible – but that's not always the case," Muma said. "I understand both sides, some of the images come out amazing. It does look neat from the air. But people should just be respectful of people's privacy."

As for calling the police on drones, the State statutes remain a gray area.
"Reckless or careless operation of an aircraft – what constitutes that? If you look at trespassing statutes you have the same kind of issue, at what point does it constitute a trespass?" Muma said.
The Council gave Town Staff to move forward with purchasing signage stating along the lines of "Unauthorized Drone Usage Prohibited" displayed with the Cottonwood Airport's phone number.
More like this story