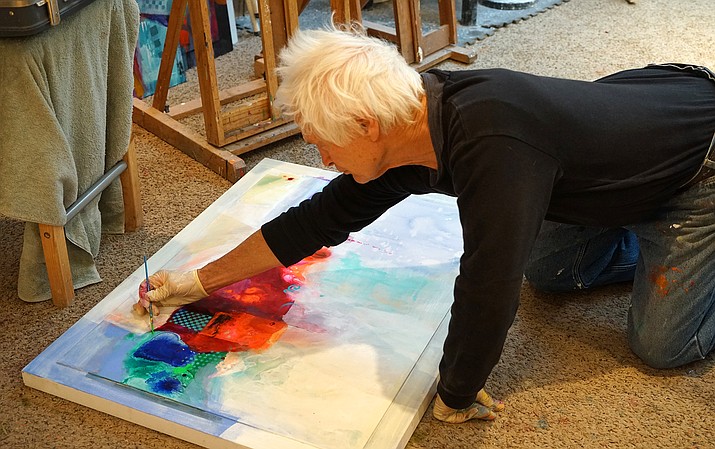 ---
---
Mixed media painter Michael Colpitts has always been interesting in incorporating expressive colors into his art. In his latest works, he seeks to combine texture with color to create a vibrant and heart-moving spectacle. This May, Creative Gateways celebrates his work in their new exhibit Art of the Heart: Spotlight on Michael Colpitts. Join them for a memorable reception on Friday, May 18th, from 5-8 p.m.
Though Michael originally was a pilot for TWA, he decided to pursue an unpredictable adventure, starting with packing up and moving to Ibiza, Spain, where he lived from 1975 to 1982. His extensive travels continued, eventually taking him to India where he began studying spiritual teachings. It was also here that he met his future wife Sumati, a ceramics artist herself. His work was created through multitude of inspirations, from the freedom of flight he experienced as a pilot, to the natives of the North African deserts, to the beauty of natural structures. Now a proud Sedona resident, Michael's adventures and inspirations are continuously reflected in his artwork.
It was only when Michael noticed what texture could do for his ceramic pieces that he began experimenting how he could implement that into his two-dimensional work. Michael was able to extend his paintings past the flat canvas through layers of different materials such as the use of gesso, fabrics and papers, light charcoal, modeling paste, grog, sand, thick oil colors, acrylic washes, and transparent oil washes. Adding these materials to create a three-dimensional perspective created multiple avenues to viewing his works. When up close to his pieces, one could see the different materials and textures implemented. However, when viewed from a farther distance, all the different parts of the piece work together to create a balanced work of art. Michael is constantly developing and improving this concept with each new painting he creates.
You can see all of Michael's newest pieces by joining Creative Gateways on Friday, May 18th from 5-8pm for the opening reception of Art of the Heart: Spotlight on Michael Colpitts. Meet Michael, and all the resident artists, while browsing the gallery space, exploring the studios, and enjoying appetizers and beverages.
Creative Gateways is a collective of artist studios and shared gallery space in Sedona, Arizona. Founded in 2016 by Pilisa Rainbow Lady, the working studios are open to all, and visitors are welcome to drop in at any time to meet the artists and engage with the creative process. Their intention is to create an open community where cross-pollination of ideas and spontaneous collaborations can flourish. The gallery space showcases the innovative and lively work that results from this very special environment, for visitors to discover, explore, and take home with them. Creative Gateways is located at 45 Birch Blvd in Sedona and is open 7 days a week from 10 to 5 pm. For more information about Creative Gateways, please visit www.CreativeGateways.com or call 928-862-4440.