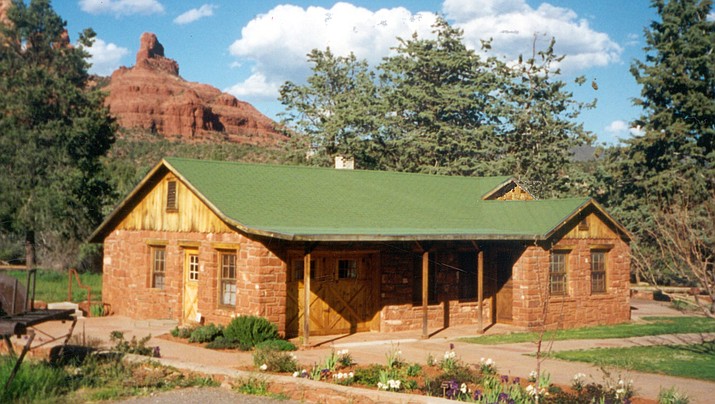 ---
---
The Sedona Heritage Museum is hosting a free party for the community to celebrate the 20th anniversary of the Museum's opening. The free festivities will be Saturday, May 19 from 10:30 a.m. to 3:00 p.m. at the Museum at 735 Jordan Road, in Uptown.
The Museum has been the community's memory keeper for two decades and is a community learning and gathering place along with being a visitor attraction, contributing to Sedona's reputation for quality, authentic experiences. This free event is planned to be a day for locals and visitors alike to experience the Museum inside and out.
Beginning at 10:30 a.m., Sedona's Mayor Moriarty and other dignitaries will be on-hand for a brief program.  Long-time volunteers who helped open the museum 20 years ago will be recognized, as well as Jordan family and other pioneer family members, and several people who were there in 1998 and on hand for the original ribbon-cutting.  With help from those folks, there will be a re-enactment of the original ribbon cutting ceremony.
Immediately after the ribbon-cutting, and from 11:00 to 3:00 the activities take-off with LIVE music all day on two stages featuring easy listening, bluegrass and country/western groups. Featured will be the Rice Brothers who will provide background music and an enjoyable setting all day for relaxing, food and conversation on the second stage. On the main stage, Reno and Sheila McCormick, and "Harpy Trails" with Ken and Linda Mikell will entertain with sets that sandwich Michael Peach, Sedona's cowboy poet. Peach will regale the audience with his original poems and stories about local historical figures and events.  His presentations are long-time favorites at national parks and universities, and he has a regular show at the Museum.
Interspersed throughout the day will be opportunities to learn about the museum and about old-time crafts and skills. In the activity area, there will be educational presentations and hands-on demos of broom making, Native American ancient fire and sandal making skills, and talks and interactions with Arizona snakes and reptiles.
There will be scheduled demos of the Jordan's 1940s mechanized apple sorting machine and you'll see Mr. Jordan's 1930s recently restored Farmall tractor run.
One of the Jordan girls who grew up in the historic house that is the centerpiece of the Museum will be giving guided tours and telling personal stories.For kids of 'all ages', there'll be a "make & take" area where Museum volunteers will teach you how to make an old-fashioned cornhusk doll.  A corn husk doll is a Native American toy, a doll made out of the dried leaves or "husk" of a corn cob.  Making corn husk dolls was adopted by early European settlers in the U.S. and is now practiced as a link to the arts and crafts of our founders.