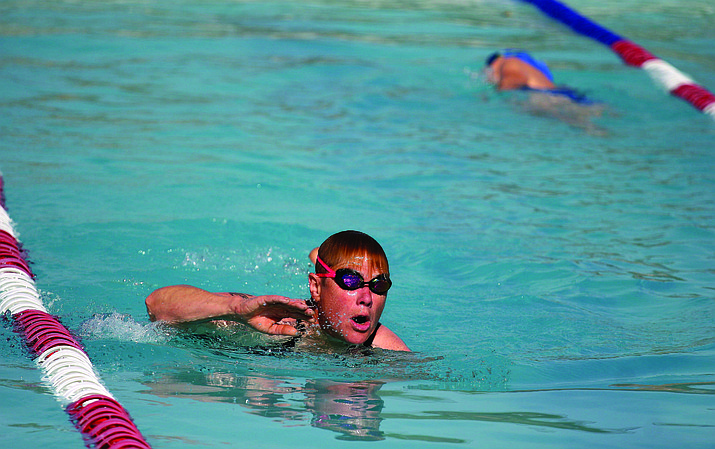 Originally Published: May 15, 2018 2:42 p.m.
CAMP VERDE -- At noon on Saturday, May 26, the Heritage Pool officially opens for public use. The most prominent way for locals to cool off, the pool will be open throughout the summer.
But this year, the Town of Camp Verde is asking council to approve rate increase for both adults and children on a per-visit, multi-visit and season passes, as well as family passes, swim lessons and pool rentals.
The Town has proposed an increase from $2.50 to $3 per adult (ages 18 and older) on a per-visit basis, from $1.50 to $2 for children (younger than 18).
A complete schedule of proposed rate increase for using the Heritage Pool can be found in council's May 16 agenda packet, www.campverde.az.gov/government/town-clerk/agendas-minutes-actions/2018-town-council/.
The Camp Verde Heritage Pool is behind Camp Verde High School, at 290 Apache Trail. For more information before the pool opens call Parks & Recreation at (928) 554-0829 or call the pool starting May 23 at (928) 567-0288.
Public records fees
Although it isn't common for the Town of Camp Verde to receive commercial public records requests, it is necessary to have a policy – and an established fee – set in place to handle such situations.
According to Camp Verde Town Clerk Judy Morgan, commercial public records requests can be "large and time-consuming to fulfill."
Morgan also said that "most municipalities" do set a fee for these types of requests.
"Without a fee established, the Town would have no way to recover this impact on resources when the use is for monetary gain," she said.
As the Town moves forward with its proposed Town Fees for 2018-2019, Town Manager Russ Martin's recommended motion to Council for Wednesday collectively approves the proposed fees for the upcoming fiscal year, which would include a $30 per hour – $100 minimum charge – for commercial public records requests.
Arizona Revised Statute 39-121.03 (D) defines a commercial public records request – specifically commercial purpose – as the "use of a public record for the purpose of sale or resale, or for the purpose of producing a document containing all or part of the copy, printout or photograph for sale or the obtaining of names and addresses from public records for the purpose of solicitation or the sale of names and addresses to another for the purpose of solicitation or for any purpose in which the purchaser can reasonably anticipate the receipt of monetary gain from the direct or indirect use of the public record."
USDA Grant application
If you build it, they will come. Not an original thought, but it applies to the Town of Camp Verde, as Economic Development Director Steve Ayers looks for council to approve the process to apply for an $8,500 US Department of Agriculture Rural Business Development grant, which would help pay for a hotel feasibility study.
According to Ayers, the Town was "approached by a couple local landowners and a group that owns and operates hotels in Northern Arizona, asking that we look into a hotel feasibility study for Camp Verde."
Ayers also said that the study is "being driven by the fact that our visitor numbers continue to grow and our overnight visitors, measured by accommodation (bed) tax revenues, have more than doubled over the last four years,"
The study is geared to help the Town determine the best location and size of hotels and/or motels to come into the community.
If the Town of Camp Verde receives the grant, Ayers said that the study would be funded "in part by the town, in part by private parties and largely by the USDA."
Of the $12,000 cost of the study, $2,000 would come from the Economic Development Department's projects line item in the fiscal year 2018-2019 budget, $1,500 would come from three private parties and the $8,500 from the grant – if the grant is approved.
The Camp Verde Town Council will meet in council chambers, located at 473 S. Main St., Suite 106.
A copy of the May 16 agenda can be found at www.campverde.az.gov/government/town-clerk/agendas-minutes-actions/2018-town-council/.
-- Follow Bill Helm on Twitter @BillHelm42