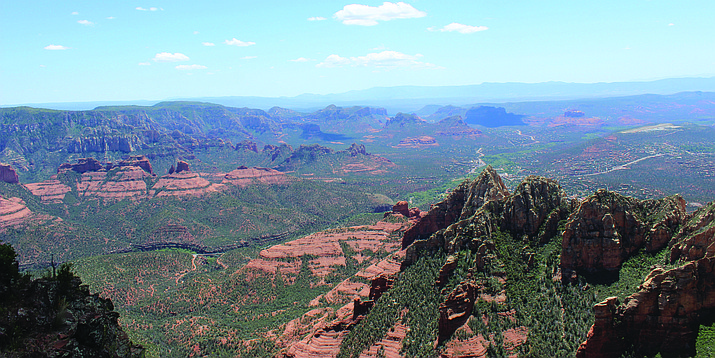 Originally Published: May 22, 2018 3:01 p.m.
North Wilson Mountain Trail, a 9.2-mile hike, is located in the beautiful Red Rock Mountains of Sedona and actually leads to the highest elevated point in Sedona, giving you a beautiful view from the top that rewards your efforts of conquering the steep terrain.
There are actually two Trail Heads to this trail, the North and the South. The South Trail Head is located right next to Midgley Bridge off of 89A.

The North Trail Head begins at the Encinoso Picnic area off of 89A as well.
To get to either trail-head from Cottonwood just jump on 89A toward Sedona and follow it up into the mountains. Once you pass Midgley Bridge, Encinoso Picnic Area is not too far after it. You will pass a grouping of shops, and creek side motels. A day pass to park in the lot is $5 if you don't have a Red Rock Pass.
The trail is 9.2 miles round trip, and during the North hike you encounter very steep switchbacks through the first part of your hike, before reaching the first plateau.
From here on, you steadily gain elevation but the hard part is definitely over. There is a pretty defined trail along the first plateau and the South and North trails meet up.
Because of the length of the trail, I would suggest bringing a camelback or a couple bottles of water, walking sticks and snacks for when you reach the top. After the strenuous hike you will want to enjoy the gorgeous views of Sedona.
Once you have passed the joint trailhead, you will follow a trail that leads you through brush and along some switchbacks up the mountain.
These switchbacks are not as difficult as the ones that you have already encountered. Once you have emerged from the jungle of brush, the trail will open up into a forest at the top. If you keep following the trail, you will run into a sign that gives you an option of left or right.
Heading right will lead you to the Canyon Overlook, I have not personally seen these views but I am sure with the elevation you will be at they are spectacular.
I headed left toward the Sedona Overlook. The trail is not much longer and is usually filled with pine needles or cones but it is pretty easy to follow. You will come upon the overlook where there are a couple stones to sit and this is where the trail ends.
You can keep venturing forward but there are not many more clear sights then the one you will encounter here.
I have hiked this trail two or three times and it has taken myself and a friend anywhere from 2 hours at a very fast pace, to 4 hours at a somewhat slow place and a significant break at the top.