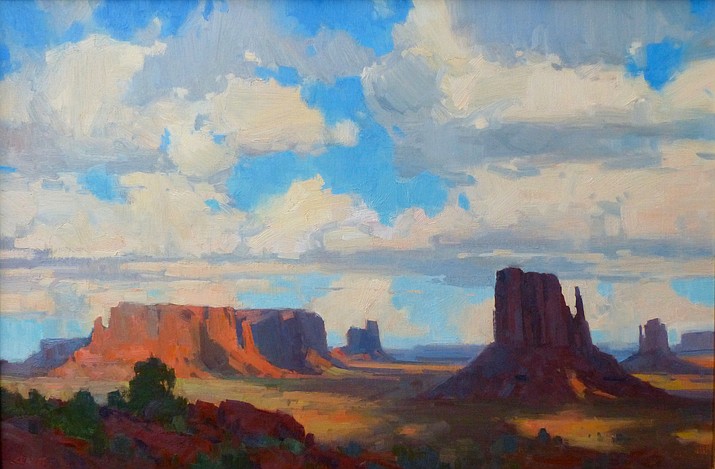 ---
---
Mountain Trails Gallery at Tlaquepaque celebrates First Friday with "Paintings from the Southwest" featuring award-winning artists who inspire us all to go out and enjoy nature with their landscape paintings of the Grand Canyon, Sonoran Desert, wine country vineyards, alpine vistas, including their favorite Sedona destinations such as Cathedral Rock, Oak Creek Canyon, Slide Rock, Tlaquepaque, Sedona hiking trails, as well as our neighboring Monument Valley, Canyon de Chelley, and Chaco Canyon.  Mountain Trails Gallery is located at Tlaquepaque, 336 Highway 179, upstairs in Suite A201 across from Tlaquepaque's Toy Town in Sedona.
When it comes to exploring nature, Bill Cramer takes his love of the landscape to heights and depths as a mountain climber. He will go to great lengths to capture that perfect perspective or atmospheric light of a mountain or a valley, including hiking in the Grand Canyon. Cramer's "Afternoon Buildup" captures the vistas of Monument Valley which is one of his favorite places to paint. "My goals are to keep exploring the Southwest's wild place, search for new ideas and express what I find exciting about landscapes and about painting," says the artist about his passion.
Gregory Stocks is recognized for his remarkable combination of classical representation and contemporary execution in his warm, colorful landscapes of the Southwest. His painting "Desert Moon" captures that magic that is often found in our local Sonoran Desert. "My work is an effort to create images that serve as emotional detours from the noise and confusion of the surrounding world."
Carl Rowe's landscape paintings are new to Mountain Trails Gallery. He calls the diversity of landscape subject matter "a painter's candy store," as he captures the forms and contours of the rolling foothills and valleys he calls home. "As light plays over its surfaces, we see the drama in our own lives and feel the excitement of being here," he says of his landscape inspirations.
These artists are just a sampling of the many choices to be found at Mountain Trails Gallery in Tlaquepaque. These artists and more are a part of the gallery's commitment to fine art from the American West, be it traditional in approach or those artists whose spark comes from a more contemporary way of seeing the world.    The gallery welcomes art collectors, art lovers, and all those new to the area to enjoy a festive reception at Mountain Trails Gallery during First Friday, June 1, 2018, 5-8pm. Mountain Trails Gallery at Tlaquepaque, 336 SR 179, Sedona, AZ 86336, last entrance by the creek, upstairs near Toy Town, Suite A201 in Patio de las Campanas. (800) 527-6556 (928) 282-3225