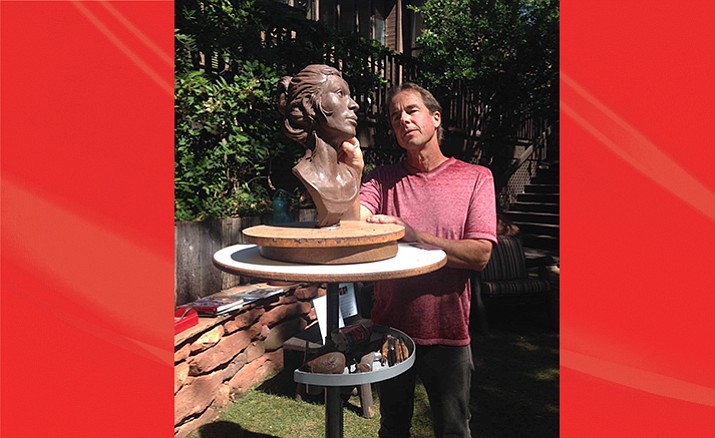 ---
---
This weekend during the season finale of their acclaimed Artists Coffee Talk series, Goldenstein Gallery hosts artists JA Gorman and Kevin McCarthy. Though they work in different mediums both are known for pieces that beckon the viewer into engaging with the surrounding world. The public is invited to visit with them this Saturday, June 2, at Goldenstein Gallery at 9:30 a.m.
Curated by Linda Goldenstein this popular series was created to facilitate a more personal connection between people and the artists they love. On Saturday mornings at 9:30 a.m., through this Saturday, June 2, Goldenstein invites the public to enjoy a cup of coffee while they get to know both the artist and their art, learning what inspires them and about individual art pieces.
Considered to be one of the quintessential landscape artists of the Southwest, JA (Jerry) Gorman's vibrant colors and impressionistic style compels collectors.  His paintings have shown in international exhibitions in France, Mexico, and throughout the United States. Recipient of several awards in national and international shows, Gorman is in the permanent art collection of the International Space Hall of Fame, the Atomic Testing Museum in Las Vegas, Nevada and the Museum of Nuclear History and Science in Albuquerque, NM. Two Gorman murals are in the collection of the US Government and his paintings are in international private collections.
Kevin McCarthy grew up in his father's studio, famed artist Frank McCarthy, and developed a deep passion for painting and sculpture.
At 15, he traveled to Italy, studied and was deeply moved by the works of Michelangelo and the Renaissance masters. He also studied under Jim Wheeler, a student of Rodin. As a dramatist, he sets relatively simple stages that rarely hold more than one or two players.  Immediately apparent, however, is the solidity and realism of his figures.  His braves stand, run and ride easily; his horses move with a believable and lively balance, without being bolstered by the strength of the bronze alone.  His dancers move with grace and vitality. The pieces also show his meticulous research, both in terms of anatomy and history. Collectors have long appreciated Kevin's bronze sculpture at the Gallery. In June, in addition to sculpture, Kevin will be unveiling his new landscape series of paintings.
Both Gorman and McCarthy will be painting in Goldenstein's Artists in Residence at L'Auberge de Sedona. Check GoldensteinArt.com for a complete schedule of Artists Coffee Talk speakers and Artists in Residence.
For more information on their artists, artwork, 12 Satellite Exhibits Sedona City Wide, Artists in Residence and events please visit GoldensteinArt.com. Sign up for their monthly E-zine, Instagram and Facebook or call 928-204-1765. Open daily, Goldenstein Gallery's address is 150 State Route 179, at the corner of SR179 and 89A. Voted Best Gallery in Sedona 10 years running and recently named the best place to shop in Sedona by USA Today 10 Best, Goldenstein Gallery is known for its diversity of world-renowned local and regional artists in all media and styles.