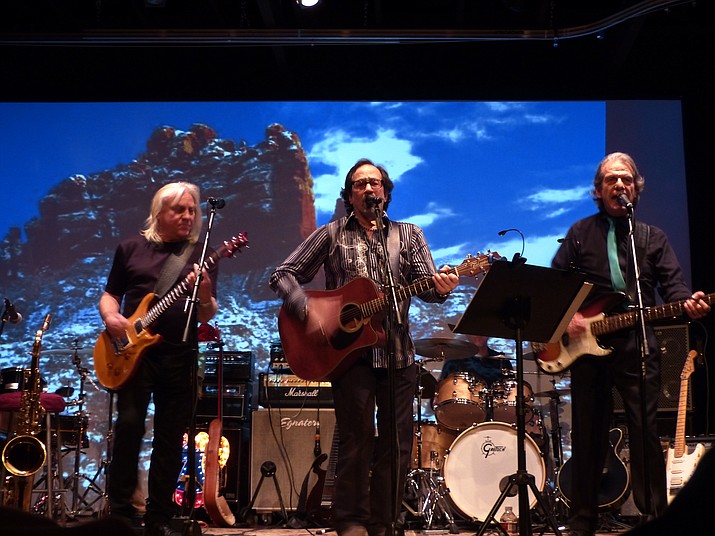 ---
---
The Green Light Dance Band, featuring the legendary Robin Miller, returns to Vino Di Sedona Saturday, June 2nd from 7 to 10 p.m.
 Robin joins Chicky Brooklyn and Tommy Acosta for a night of musical fun and original Rock 'n' Roll songs that brighten the soul and lift the spirit with happiness and melodies that gladden the heart.
 The band will be performing as a trio, with Chicky on Rhythm guitar, Tommy on bass and Robin on lead.
 Robin is an accomplished musician and songwriter of international acclaim. He has toured the country, written scores of songs and recorded dozens of albums, both rock and in the spiritual realm. He is considered one of the best lead guitarists in Northern Arizona.
 "We are proud to have Robin joining us for this gig," said Chicky. "He elevates our music to a whole other level. It's been a while and this is going to be a real special night for us and for our fans."
 Tommy cut his musical teeth playing in numerous rock band and punk rock bands in New York City. He wrote and recorded a rock opera on Orange Records and was a founding member of the notorious "Squirrels" one of NYC's most popular punk rock bands during the heyday of that musical genre.
 Chicky played with a number of Brooklyn bands and was the chief songwriter in each one. He bantered about the Manhattan music scene until he moved to Arizona, met Tommy and formed Green Light.
 Tommy looks forward to playing in the intimate atmosphere Vino Di Sedona provides.
 The band has been working on new material to add to their repertoire of original tunes, songs that are chock full of harmonies, catchy choruses and lyrics that tell musical stories of loves lost and found.
 "We have some new songs we think everyone is going to really like, Chicky said. "Vinos is the perfect place to launch them and with Robin joining us on stage for this gig, it's going to be magical.
 For more information on the band visit GreenLightRocks.com. Call Vino Di Sedona at 928-528-4682. Or visit VinoDiSedona.com.