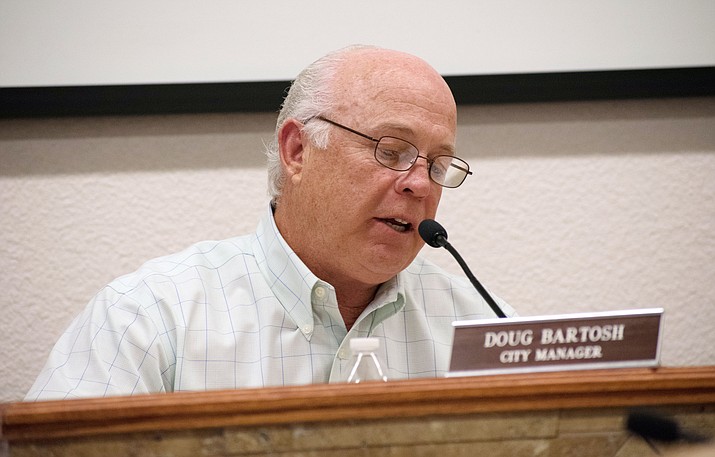 Originally Published: May 29, 2018 4:22 p.m.
COTTONWOOD -- Cottonwood employees "knowingly" submitted inaccurate information in testing drinking water samples, according to an October 2017 Arizona Department of Health Services report.
"Cottonwood's officers and employees knowingly aided, permitted or abetted the submission of false or inaccurate information required by the statutes or regulations governing the licensure of environmental laboratories," the report stated.
An Arizona grand jury indicted former Cottonwood employee Hans Burnett after an investigation revealed he allegedly forged drinking water bacteria test results, according to a news release by Arizona Attorney General Mark Brnovich. Burnett's hearing is scheduled for June 18th.
Cottonwood City Manager Doug Bartosh said Burnett resigned May 23.
"I think the most significant conclusion was that we should not be doing compliance lab testing internally," Bartosh wrote in an email to the Verde Independent.
The city apologized in a public statement for "failure in performance."
"We can assure the public that all steps have been taken to prevent any further failures in the future," according to the statement.
The statement continues that the city is working with both ADHS and the Arizona Department of Environmental Quality regarding complaints.
"Each entity agreed that testing protocols were not completely followed and that changes needed to be made," according to the city statement. "It is critical to state that through our investigation there is no evidence that the public was exposed to unsafe water. The city immediately developed a corrective action plan that included the implementation of outside testing for all water samples along with a compliance and audit process for sampling and reporting."
Cottonwood Mayor Tim Elinski said council was initially made aware of an issue in the city's water testing methods in a city manager's report.

In the July city manager's report, Cottonwood City Council was alerted that both the Arizona Department of Environmental Quality and Department of Health Services contacted staff to conduct an investigation of the city's water quality testing processes.
"Staff has presented both groups with volumes of information and attached are the initial results of their tests related to arsenic levels, which shows that in all tests the city is below that level allowed by federal standards of 10 ppb. Our testing is consistent."
Elinski said for him, it seems "the severity of the issues that arose became very apparent" after reading the ADHS report.
Between 2015 and 2016, Colilert testing samples were inappropriately recorded, according to the ADHS report. Coliforms are a group of related bacteria used as an indicator of the pathogens in drinking water, according to the Environmental Protection Agency. The bacteria is generally not harmful to humans with a few exceptions.
The report also states that Cottonwood analysists were "inappropriately writing compliance data" done by other analysists in violation of Arizona Administrative Code.
"Because the original data written by the actual analyst for the items detailed below does not appear to exist, it cannot be determined if the records were rewritten for 'malicious intent' or not," the report stated.
Bartosh said the city did its own investigation into Burnett's actions and did not come up with the same severity of fault as the Attorney General's Office.
"Based on our investigation, there was no indication the public was ever at risk," Bartosh said. "I think it was just sloppy, negligent work, based on our investigation."
During the investigation, Deputy City Manager Rudy Rodriguez, Human Resources Manager Amanda Wilber and Utility Manager Roger Biggs conducted interviews with Hans Burnett and other staff.
In Burnett's interview, the investigation reveals that "he cannot explain why the documents were altered to exclude the sample and states that excluding the sample serves no purpose."
In the interview, Burnett emphasized that there was no intent to conceal information and was aware that documents were rewritten for "cosmetic purposes."
"I gave the last seven years of my life, birthdays, anniversaries, funerals for this department," he said in the interview. "There is nothing that I'm going to do to jeopardize that."
In an email to The Verde Independent, Bartosh said the city voluntarily gave up its lab license in favor of having all compliance samples tested at an outside lab.

Document
In October 2017, the city sent a Corrective Action Plan to Isaac Robert, program manager at ADHS. Among other outlined actions, all activities, personnel and writing duties will now be under sole direction of the city's laboratory director, according to the plan. Laboratory personnel will also no longer collect water microbiological samples. That task has been reassigned to the city's water department.
Other remediation efforts include:
A new Quality Assurance Plan
Implementation of a new training program on QAP and Standard Operating Procedure
In October 2017, water treatment and wastewater personnel attended a Test America webinar
Purchase of new datalogging thermometers
Ordering of new atomic digital clocks for Mingus and Riverfront laboratories to ensure accuracy of time recorded.