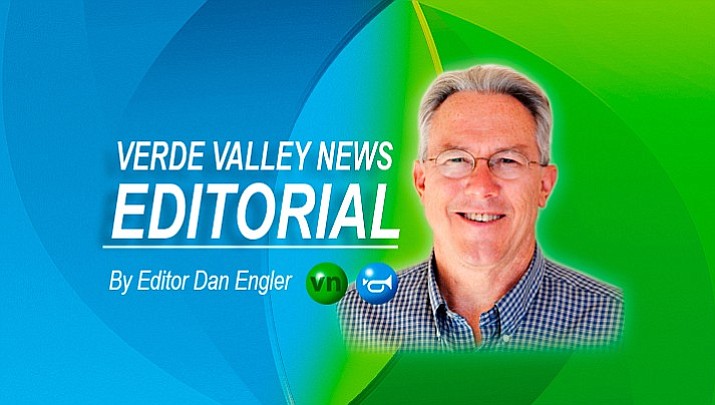 Originally Published: May 29, 2018 4:10 p.m.
As of June 1, the recycling bins that had long been provided in Camp Verde by Sedona Recycles will be gone.
There are myriad reasons for this development.
First, recycling is a tough business to be in these days. Sedona Recycles reports that there has been a drastic drop in material prices in recent years.
Second, recycling bins are often used for much more than recyclable materials. Sedona Recycles reports "high levels of illegal dumping at the sites and in the bins and we bear the cost of disposing of these items."
Third, Sedona Recycles was making five to seven runs each week to Camp Verde with a truck that has 420,000 miles on it.
Finally, no formal contract for the recycling bin service existed between Sedona Recycles and the Town of Camp Verde. It was a month-to-month verbal agreement. Sedona Recycles was not locked in to provide a service in Camp Verde as it is elsewhere in the Verde Valley.
As for the other communities in the Verde Valley – both incorporated and unincorporated – service is guaranteed through contractual agreements with Yavapai County, Clarkdale and Jerome.

Sedona Recycles intends to honor those contracts, said Sedona Recycles Executive Director Jill McCutcheon.
A recent query to Yavapai County concerning a 30-day cancelation clause was made only in the event "we had an emergency with our truck and had to pull out," said McCutcheon.
"Our county contract extension expires on November 18, 2018, and we fully plan to fulfill our contractual obligations," McCutcheon said. "In order to cancel the contract, we would have had to provide a certified letter giving 30 days' notice on receipt. No letter was sent and no letter was received."
She further noted that Sedona Recycles' contract with Clarkdale "was just recently renewed and we provide cardboard recycling services in Jerome and we provide them with a trailer for other recyclable materials and they bring that trailer to our center once per week."
Once those contract terms are fulfilled, continued service has to be considered an unknown. It bears emphasis that in Sedona Recycles' notice that recycling bins will be removed in Camp Verde, McCutcheon said in order to keep Sedona Recycles strong and viable, the non-profit has "made the difficult decision to no longer haul materials from outside the Sedona/Big Park area with the exception of business recycling."
No doubt, the decision in recent years by commercial trash haulers to provide curbside pickup of recyclable materials has added to the difficulties faced by Sedona Recycles.
The irony of all of the above is that Sedona Recycles was the first to establish a recycling consciousness in the Verde Valley more than 25 years ago. Long before sustainability became the catchphrase of government and business alike in the Verde Valley, Sedona Recycles was spreading the message of use and re-use.
The recycling business may be tough, but McCutcheon said Sedona Recycles intends to stay in business. "We take recycling seriously, we are not a trash hauler for whom recycling is a side line. Recycling is all we do and we do it with integrity and transparency," she said.
More like this story