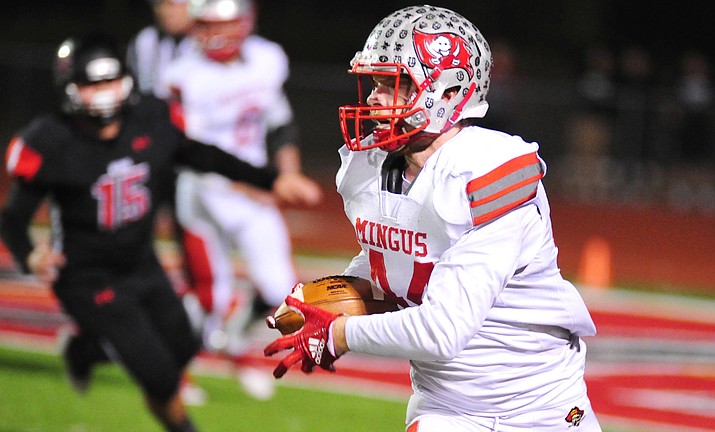 Originally Published: November 3, 2018 2:20 p.m.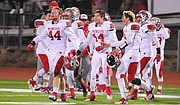 PRESCOTT VALLEY — Once again Mingus Union football ended a "curse" in a game against Bradshaw Mountain.
Friday on the road, the No. 9 Marauders (9-2) rallied to beat the eight-seeded Bears 21-17 in the first round of the 4A state playoffs. The win gives Mingus Union its first berth in the quarterfinals since 2012, snapping their four-game state tournament-losing streak.
Trailing 17-7 late in the third quarter, the Marauders rallied to beat Bradshaw Mountain (8-3) for the second time this year.
"Just like last time, a hard-fought battle," Mingus head coach Robert Ortiz said. "This one definitely went up to the end, lived up to the expectations. Hats off to them for finding and making adjustments to us and finding something that worked for them. I said to my kids a million times they're a bunch of fighters, they're never gonna quit."
Mingus Union will face top-ranked Tucson Salpointe Catholic (11-0) on the road in the quarterfinals. The Lancers beat 16th-seeded and No. 21 ranked Apache Junction 56-7 in the first round.
"Honestly we expected this going in and we all knew it was going to be a war and a dog fight to the end. I couldn't be more proud of an opponent to play because they went to war from the first snap. So did we," Mingus senior quarterback Antoine Zabala said. "We got down a little bit but we never gave up. We knew this team has fight and we're never gonna run out of it. I couldn't be more happy with my team and it was just a war from start to finish."
After Zabala was ejected from the regular season game against Bradshaw, along with a couple of Bears, he suffered a hip injury on a blocked punt when a couple of Bradshaw Mountain players dove past the ball and hit the quarterback/punter.
"I felt like it was a little bit of a cheap shot that they took on me. My hip is killing me but it's nothing I can't take an ice bath and get ready for Salpointe next week," Zabala said.
Zabala limped after the game but was able to return for the Marauders' next possession after spending a few minutes on the turf.
"It happens. It's football. Things happen. The kid looked like he was trying to go for the ball, whatever, Antoine said his hip was hurting but he responded well," Ortiz said. "He's a fighter and he's the leader of all the fighters and his quit never ends, so he definitely showed the resilience to make it happen."
The Bears would block the next punt attempt on the next play and then score a touchdown. Then they scored another one to go up 17-7.
However, the Marauders responded with a 50-yard reception by sophomore Andrew Nahar, who had been on the JV and then a 20-yard touchdown pass to senior tight end/linebacker Kendrew Streck.
"That was awesome," Mingus senior receiver/defensive back Chaz Taylor said about Antoine Zabala's response. "I was scared when he got down, I was really scared that we were going to have to put (senior running back/defensive back Alex) Nelson back in the backfield and just do that Wildcat formation but he was able to bounce back and push through his injuries and lead us to victory."
Then with less than a minute to go, Nelson scored his second touchdown of the night to give the Marauders the lead for good.
The 17 points that Bradshaw Mountain scored was their second lowest output of the season, ahead of only their 28-6 loss Mingus Union. They scored 75 points in their last game.
"The defense was exceptional," Taylor said. "These past two weeks we've been good about holding teams below 21 points and our defensive coach Jose Zabala says that if we hold them under 21 then we'll win and that's been the case these past couple of week."
The Marauders' defense recovered a fumble and Taylor had two interceptions.
"Our defense has come up big when we needed them to come up big," Ortiz said. "I mean (senior running back/linebacker) Joe Machado came up big with the interception last week, came up big with a huge sack at the end there and that's a momentum swing, a big momentum swing."
Although Mingus Union won the Grand Canyon Region and beat Bradshaw Mountain during the regular season, because they were 0.3113 power points behind the Bears, they had to travel to Prescott Valley for the first round.
"As a Mingus Marauder and beating them, getting screwed in AIA rankings, it couldn't have been more reassuring to this program," Zabala said. "We showed (Friday) night that we should have been higher, we deserved a home playoff game but it doesn't matter now, anybody that has to play us should look out for the heart and soul that this brotherhood has."
Despite having to travel, Mingus Union fans filled the visitor stands and may have outnumbered the BMHS supporters. Marauder fans brought a number of signs.
"I couldn't be more happy," Zabala said. "'Small town Hickville' that everybody calls Cottonwood, everybody showed out and it was amazing. Thank you everybody that came out and supported us, we all really needed it from the last snap. Honestly I couldn't be more happy with my team and the crowd and the town, we played for the town (Friday) night, we played for each other, so thank you all for coming out."
More like this story