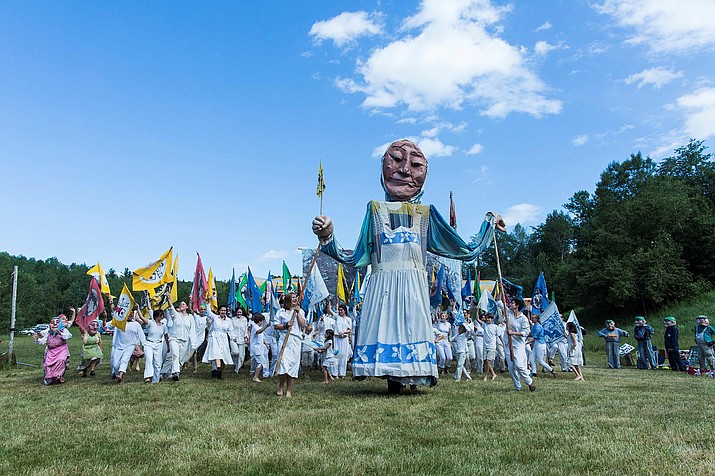 ---
---
Bread & Puppet Theater, the internationally celebrated company that champions a visually rich, street-theater brand of performance art filled with music, dance and slapstick comes to Clarkdale on Saturday, November 10th with two shows. The Grasshopper Rebellion Circus, (good for families) teaches rebellion against intolerable situations with the help of state-of-the art papier-mâché weaponry and the appropriately riotous Bread and Puppet Brass Band. The group also features The Basic Byebye Show, a manifesto on transformation inspired by Albrecht Dürer's apocalyptic woodcuts and the daily news.
If You Go ...
• What: Bread and Puppet Theater (presented by Red Earth Theatre)
• When: November Saturday 10th: 3.00 p.m The Grasshopper Rebellion Circus (suitable for families)
7:30 p.m. The Basic Byebye Show (Older children and adults)
• Where: Clarkdale Memorial Clubhouse Auditorium, 19 N. Ninth St., Clarkdale
• How Much: Admission: $10-$20 suggested, no one turned away for lack of funds. Available online at www.showtix4u.com
• More Info: For more information on the event please visit http://breadandpuppet.org/ or www.RedEarththeatre.org
 The shows are political and spectacular, with huge puppets made of papier-mâché and cardboard.
Founded in 1963 by Peter Schumann on New York City's Lower East Side, the theater has been based in the Northeast Kingdom of Vermont since the early 1970s.
Setting up in the fabulous Clarkdale Memorial Clubhouse Auditorium, Hall, Bread and Puppet will play the colorful, fast-paced circus in the afternoon, and then change over their set in order to present the intense, black and white Basic Byebye in the evening.
 The Basic Byebye Show expands on the traditional byebyes of funerals and train stations by turning byebye-saying into a political act.
 Bread and Puppet's performances in Clarkdale come as part of a 14-week tour across the continent and back with The Grasshopper Rebellion Circus and The Basic Byebye Show.  Please contact Josh Krugman (jrkrugman@gmail.com; 802-525-3031) with further questions.
 After the performances,  Bread and Puppet will serve its famous free sourdough rye bread with aioli, and Bread and Puppet's "Cheap Art" – books, posters, postcards, pamphlets and banners from the Bread and Puppet Press – will be for sale.