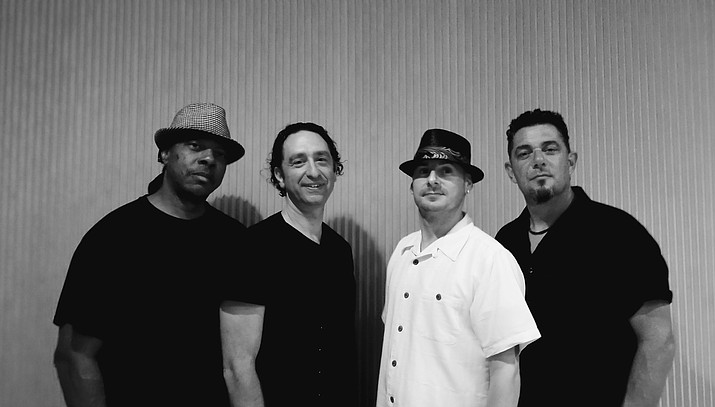 ---
---
Sedonas new dance band Super Soul is debuting at Main Stage in Cottonwood, Saturday, Nov. 10 from 8 to 11 p.m. They play a variety of dance/soul music with an emphasis on funk. On lead vocals and saxophone, Tony Rousseau plants some of his Minneapolis roots here in the Verde Valley. Eddie Barattini on drums has been laying down rhythms in Sedona for many years and nationally for many more. Ivan Wade on bass has been a gift to many groups since his arrival in Sedona. Mike Wade on guitar is a seasoned veteran with a wide variety of experience.
Tony Rousseau has been in Sedona for three years now after living in Minnesota most of his life. His earliest influence was his grandfather, blues legend K. D. Bell. His first night club performance was at the age of 11 after playing the saxophone for only a few months. He studied classical and jazz, but his love is for the blues and soul music. Tony finished his formal studies in high school as Minnesota All-State jazz band featured soloist. He continued professionally in the Minneapolis dance, blues and R&B live music scene. His vocals stretch from Frank Sinatra to Prince, Michael Jackson and Stevie Wonder. His saxophone solos are heart felt blues and soul inspired.
For the last 30 years Ivan Wade Leibowitz has played and performed Bass and six-string guitar. From the early years of formal conservatory training, he began instruction to later in his 20's where he would have the privilege of studying one-on-one under international recording and performing artist Adam Levy (Lead guitarist for Norah Jones, and Tracy Chapman). Ivan's talent, personal drive, and commitment in New Jersey and Philadelphia contributed to the shared development of a group that recorded professionally alongside with The Roots, Grover Washington Jr, Jefferey Gains, Rachell Farrell, and Live (Crush Boy: Brothers and Sisters – From Philly with Love).
Eddy Barattini was born with the beat in his blood in Rochester New York. His first paying gig was at the age of 13. In 1992, he graduated the Percussion Institute of Technology. He continued on playing with the legendary Richie Havens, recording quote "Cut to the Chase" featuring Chuck Mangione, followed by a world tour. He also worked with Cracker guitarist Johnny Hickman, Chris Spheeris, Fitzhugh Jenkins, and Ralph Illenburger. Eddie plays and has a recording studio in Sedona incorporating wide variety of styles and artists.
Mike Wade is a veteran guitarist of the Florida Gulf Coast. He has been playing in the Verde Valley for the past 12 years. Mike plays the guitar and sings with passion and flare. He also is talented in a wide variety of genres and styles. His guitar solos are shredding and uplifting. Playing in the Super Soul band has definitely brought back some of his old school roots.
You can expect a range of music from Santana, The Doors, Michael Jackson, Prince and Stevie Wonder. Whatever they play you will feel it in your soul down to your feet with a good dance beat and inspired solos. So if you are ready for the Super Soul experience, come down to main stage and bring your dancing shoes.