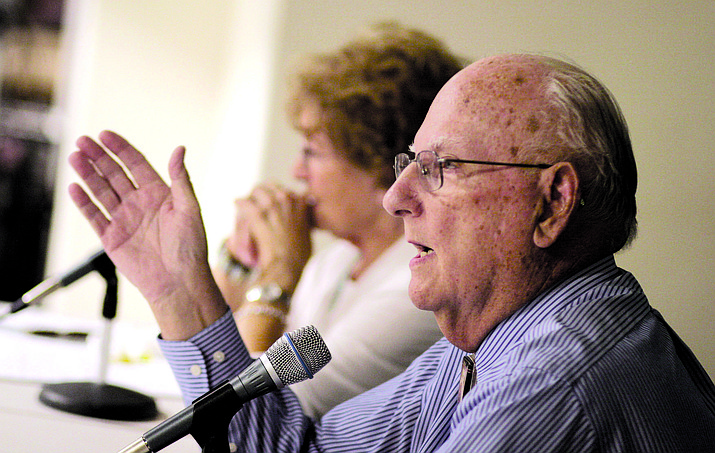 Originally Published: November 6, 2018 9:46 p.m.
CAMP VERDE – Charlie German is on his way to his third term as Camp Verde's mayor.
German, who was first elected in 2013, is 209 votes ahead of challenger Jackie Baker in Yavapai County's general election unofficial results as of 8 p.m. Tuesday.
Camp Verde's mayor serves a two-year term.
With more than 80,000 ballots in, German said he is "pleased to continue as mayor for another two years."
German, who received fewer than 50 percent of the vote in the Aug. 28 primary, said that Baker "ran a good candidacy."
"I'm glad that Jackie stepped up and ran," German said. "We could sit next to each other and have fun. That's refreshing, in a lot of cases today."
The unofficial results show that 268 more people voted in the Nov. 6 general election than in the primary election.
To Baker, who is currently a member of the Camp Verde Town Council, the community's voting public "did pay attention."
"They care about their community and they want to participate," Baker said.
Speaking on her first attempt at becoming Camp Verde's mayor, Baker said that her campaign was a "very positive experience."
"Listening to people, visiting with people as they voiced their ideas," Baker said.
Moving forward, Baker said she expects to continue serving the community as a volunteer, though she'll "probably take a break for a little while."
"I'll enjoy the holidays, visit some friends and family," Baker said. "But I'll always be paying attention to our community."
According to unofficial results, German has 1,443 votes to Baker's 1,234 votes. Voters also cast 19 ballots for unofficial write-in candidates.
Visit http://www.yavapai.us/Portals/26/Elections/2018/1106/ENG_NOV_Election_Results_Post.pdf for updates on the Nov. 6 general election.
-- Follow Bill Helm on Twitter @BillHelm42