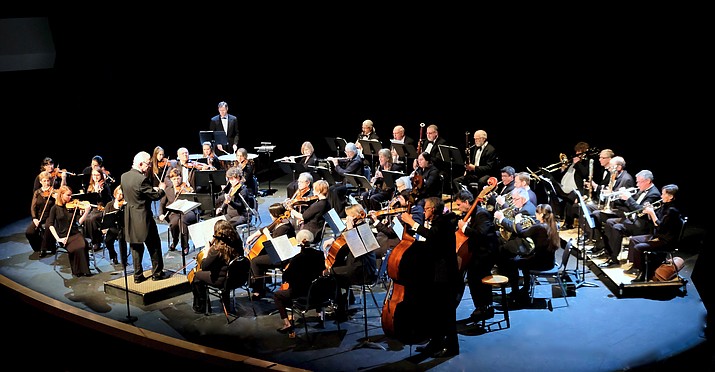 ---
---
Flamboyant, colorful, dramatic music of Spain highlights the first concert of the Verde Valley Sinfonietta's 2018-2019 season.
Entitled "Spanish Nights," the concert will be presented at the Sedona Performing Arts Center (SPAC), on Sunday, November 18 at 2:30 p.m.  Maestro Kevin Kozacek will conduct the orchestra in Manuel de Falla's Nights in the Gardens of Spain and Fantasia for a Gentleman by Rodrigo, with Flagstaff guitarist Craig Yarbrough as soloist.
Chabrier's Habanera, Copland's Three Latin American Sketches, Granados' Intermezzo from Goyescas and Sarasate's Zigeunerweisen (Gypsy Airs) round out the program of Spanish or Spanish-inspired works. Sinfonietta concertmaster Rachel Butherus is violin soloist for Zigeunerweisen. Pianist Kathryn Mientka is soloist for the Falla.
 The November concert is co-sponsored by John and Ann Steinbrunner of Sedona and the Sinfonietta Board of Trustees. Peter and Kathy Wege of Sedona are season sponsors for the 2018-2019 concert season.
 Guitar soloist for the Rodrigo, Craig Yarbrough has performed extensively in the Southeastern United States and the Four Corners Region. In 2003 Yarbrough founded the Grand Canyon Guitar Society, a nonprofit arts group dedicated to guitar education and performance. He continues to lead this group as the executive director.
 Violin soloist for the Sarasate is Rachel Butherus, a 2016 master's degree recipient at NAU where she studied with Karin Hallberg and Louise Scott. Rachel is a member of the Flagstaff Symphony and has won concerto competitions across Colorado and N. Arizona. Her solo in the November Sinfonietta program is a virtuosic tour de force – Zigeunerweisen ("Gypsy Airs") -  composed by Pablo de Sarasate in 1878. Sarasate himself was a violin virtuoso who composed works for violin in order to show off his technique and bravado.
Pianist Kathryn Mientka of Sedona will solo in the Falla Nights in the Gardens of Spain. She has had an international performing career as pianist of the Mientka Duo and is now a staff accompanist at NAU. Kathryn was also featured numerous times on NPR's "Performance Today" and on PBS television.
Nights in the Gardens of Spain depicts three gardens: The first are in the Generalife, the jasmine-scented gardens surrounding the  Alhambra.The second is an unidentified distant one in which there is an exotic dance. The third set of gardens are in the Sierra de Córdoba. The best-known inhabitant of the gardens of the Sierra de Córdoba was the Sufi philosopher Ibn Masarra, and the dances depicted are presumably Sufi dances.
Rodrigo composed Fantasía para un gentilhombre (Fantasia for a Gentleman) in 1954 at the request of Andres Segovia, renowned classical guitarist.
 Composer Enrique Granados became enamored of the paintings of Goya. As a result in 1911 he composed Goyescas, a six-piece piano suite that became his most famous work. He later wrote an opera based on the suite. The Sinfonietta will perform the intermezzo from that opera.
 The Sinfonietta's season includes two more concerts, on February 10 and April 7, 2019, also at SPAC. February 10's "Sweet Melodies" concert features violinist Yevgeny Kutik in the Mendelssohn Violin Concerto, Debussy's "Petite Suite" and the Brahms Serenade No. I in D. A Boston resident, Kutik has an international performing career with recent performances in Capetown, S. Africa; Washington DC; Savannah GA; Springfield MO and OH, Germany, Czech Republic and Poland as well as many performances in New England and on the east coast.
Tickets starting at $15.00 are available on the Sinfonietta's website: VVSinfonietta.org. Tickets by phone reservation or at the door are available for an additional $5.00 per ticket. For more information, please visit VVSinfonietta.org or call 928-282-3066. SPAC is located at the Sedona Red Rock High School on Upper Red Rock Loop Road in Sedona.