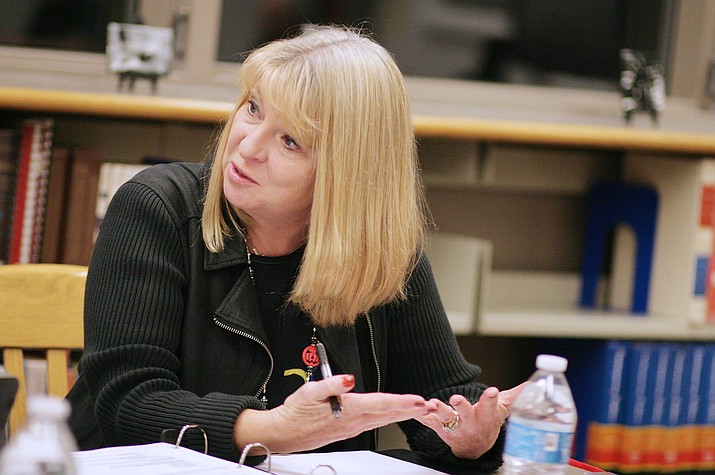 Originally Published: November 7, 2018 11:47 a.m.
COTTONWOOD – The Mingus Union School Board will consider extending Superintendent Penny Hargrove's time away from work – and appoint an acting superintendent -- "until all due process procedures have concluded," according to the agenda for the board's 3:30 p.m. Thursday meeting.
Oct. 25, the Mingus Union School Board unanimously voted to place Hargrove on 10-day paid administrative leave for what Jim Ledbetter called "serious missteps in handling of the processes" connected to AzMERIT testing problems in April.
Should Hargrove's administrative leave be extended, the board could designate "an administrative employee to determine personnel actions to recommend to the board," according to the agenda for Thursday's meeting.
The Mingus Union School Board is scheduled to go into executive session to seek legal advice from the district's attorney regarding the "employment, assignment, dismissal or disciplining" of Hargrove, the meeting agenda states.
The Mingus board is also expected to seek advice from the attorney as it "consider[s] its position and instruct its attorney regarding the board's position on a contract with Hargrove "or in settlement discussions to avoid litigation." The Mingus board signed Hargrove to a three-year contract extension in April at a base salary of $116,280 per year.
Scheduled to return to work on Nov. 9, Hargrove has been on home assignment and has been "admonished" to not discuss the situation with anyone except for the board's investigators.
Mingus Union High School District's governing board will meet at the school's library, located at 1801 E. Fir St. in Cottonwood. Call (928) 634-0580 for more information.
A copy of the agenda can be found at https://v3.boardbook.org/Public/PublicHome.aspx?ak=1000989.
For the most up-to-date agenda, visit www.mingusunion.com/Governing_Board.
-- Follow Bill Helm on Twitter @BillHelm42
Related Stories