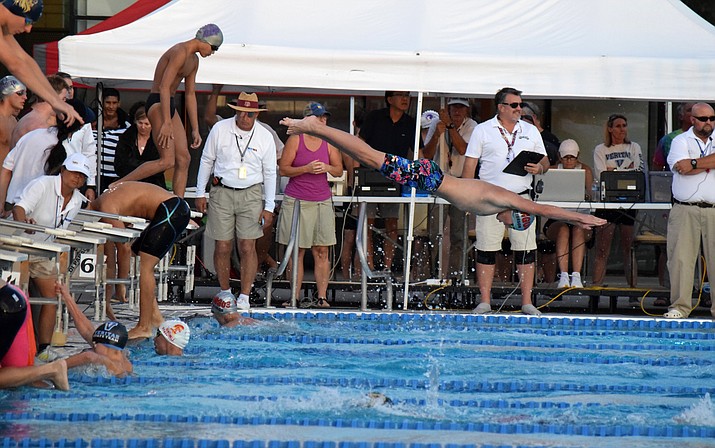 Originally Published: November 8, 2018 1:19 p.m.
Updated as of Thursday, November 8, 2018 1:19 PM
PARADISE VALLEY — Personal and school records fell as Mingus Union swimming earned a pair of top 12 finishes at State.
On Saturday 17 Marauders competed at the Division III Swim and Dive Championship at Phoenix Country Day School. The boys finished eighth place and the girls in 12th.
"It phenomenal," Mingus head coach Gretchen Wesbrock said. "We had so many PRs, so many personal records. It was just really phenomenal, it's just such a special group of young people. I mean they represent our community in the most positive of ways. They're kids of character and work really hard and it paid off (Saturday) in the pool."
The boys 200 freestyle relay team of Fletch Fangman, Dallin Gordon, Andrew Peterson and Landon Trezise finished second and set a new school record (1:32.71).
In the 100 butterfly, Fangman finished fifth, setting a new school record of 54.84. he also took ninth in 50 Free.
"It's awesome, I think that was super exciting," Wesbrock said. "We had two school records set on the boys side. Fletch beat his school record (Friday) in prelims and then beat the one he did (Friday) on (Saturday) (laughs), so that's super cool and then they beat their 4x50 relay, so you know the one that won state last year, they were second this year, they set a school record in that. So that was pretty exciting."
Gordon finished sixth in the 100 Free and 12th in the 50 Free. The 400 Free relay team of Joseph Calhoon, Fangman, Gordon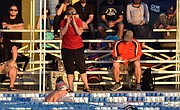 and Andrew Peterson took sixth.
All of the Marauders' relay teams made it to the second of two days at State.
Emma Warner took sixth in the 100 Breast and was 13th in the 200 IM.
The girls 200 Free relay team of Jade Bach, Rylie Burke, Brooke Peterson and Warner was eighth. As was the 400 freestyle girls relay team (Zoey Arwine, Burke, Brooke Peterson and Warner.
"Then on the girls side, they were so excited to be in the top eight in the 4x50 and the 4x1," Wesbrock said. "I think they surprised themselves."
Burke finished seventh in the 50 Free and eighth in the 100 Free. Calhoon was 11th in the 500 Free.
Meanwhile, Andrew Peterson took 11th in the 100 Back and 15th in the 50 Free.
"I was just really impressed with the time drops," Wesbrock said. "When you get to these big meets, (Friday) we had time drops all over the place, it was just crazy and then coming here (Saturday) and seeing more time drops? That's not easy to do, that shows the level of training that they have, the endurance, the training. They were just mentally ready."
The boys 200 medley relay was 14th. Calhoon, Casner Dudley, Luke Ritter and Trezise were on it.
The girls 200 medley relay (Bach, Charlie Green, Taylor Lennon, Tiana Lodico) was also 14th.
Zoey Arwine finished 15th in the 100 butterly.
Wesbrock said the division was even better than last year.
"This division is quick," Wesbrock said. "Don't be fooled because we're in the small schools division that we're not facing competition, a lot of these schools have limited sports programs, so swim is a big thing for them."
More like this story