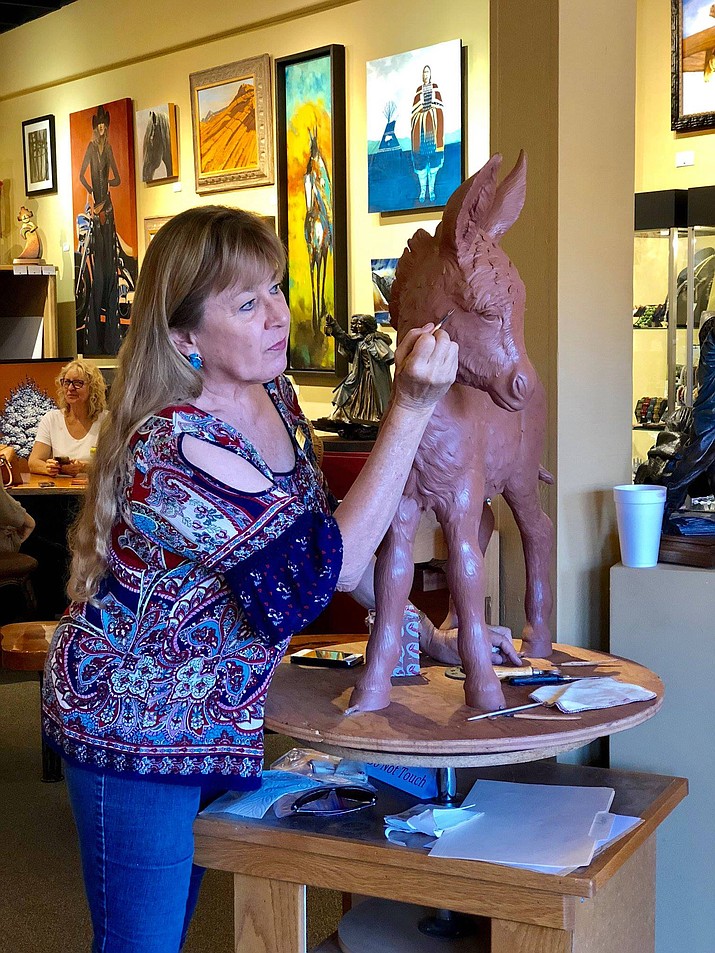 ---
---
Syri Hall's rich sculptures and paintings are a reflection of her deep connection to the natural world and in particular the Southwest landscape and animals she so dearly loves.

From a young age she was a visitor to Sedona and was captivated by the landscape and dreamed of making it her home. To this day, after being a resident for over thirty years, her work as a sculptor and plein air painter depicts this passion.
Syri says of her art, "Happiness for me is living, painting, and sculpting in the beautiful red rocks of Sedona, truly one of Mother Nature's crowning achievements."
Syri is sculpting at Goldenstein Gallery as part of their Artists in Residence program. She is working on "Francesca", a charming life sized clay sculpture of a one-month-old Sicilian donkey.


Standing 32 inches high, Hall's deft work has brought this delightful and playful creature to life. The finished piece will be cast in bronze and limited to a very small edition of 15.

Hall is offering pre-cast pricing on this special piece. The public can watch Hall sculpt and see "Francesca" as well as Hall's other work at Goldenstein Gallery. Call the gallery for her schedule or visit GoldensteinArt.com.
Her paintings are full of depth, color and movement. Captivated by the red rocks of Sedona - their bold mass and ever-changing color, Hall has spent years watching how the play of light across the rocks reveals a multifaceted dimensionality. As a result, her paintings mesmerize viewers; they profoundly mirror the intimacy and love that she holds for the land and she has translated that love to the canvas.
Syri Hall also participates in Goldenstein Gallery's vibrant Artists in Residence program at L'Auberge de Sedona where she paints her inspring Sedona landscape paintings.
For more information on artists, artwork, Satellite Exhibits, and Artists in Residence please visit GoldensteinArt.com. Sign up for their monthly E-zine, Instagram and Facebook or call 928-204-1765.
Open daily, Goldenstein Gallery's address is 150 State Route 179, at the corner of SR179 and 89A.