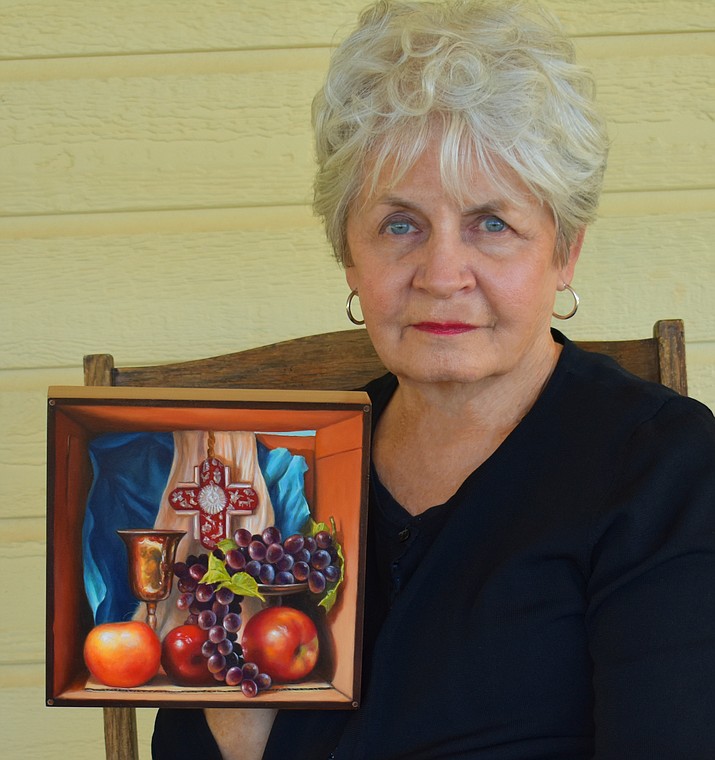 ---
---
Local artist, Janet Weaver, has been awarded Best of Show in the 2018 National Small Works "Lucky 13" Exhibition and Competition.  The event is sponsored by the Virgin Valley Artists Association, located in Mesquite Nevada. 
The judge's specific comments about the winning artwork are as follows:
"There is so much to love about this piece.  Ms. Weaver shows a clear understanding of the technique of trompe l'oeil - she has used light, shadow and perspective to truly fool the eye.  Her craftsmanship is evident by how she paints various textures.  Her use of color is very well-informed; color harmony & complementary colors are achieved to great success.  Fantastic!".
Ms. Weaver's artwork measured 8" x 8", in oil, and is titled "CARE PACKAGE NO. 1".  The Artists' Reception will take place on November 15 from 4pm to 6pm, at The Mesquite Fine Arts Gallery, located in Mesquite, NV.
More of Janet Weaver's artwork can be seen at the Old Town Frame Company's Gallery in Cottonwood, 107 S. Candy Lane, and the Sedona Arts Center, 15 Art Barn Road.