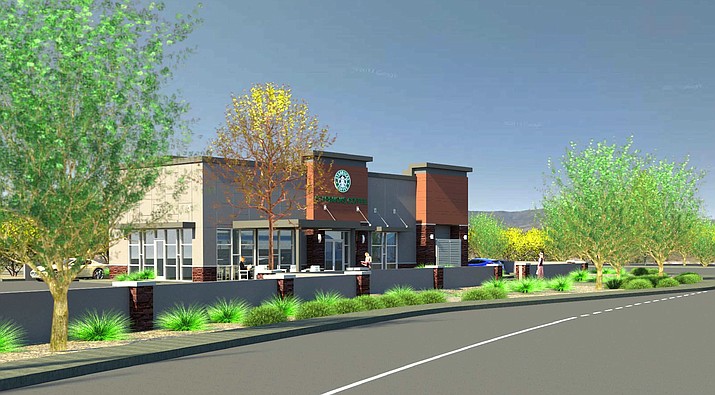 Originally Published: October 4, 2018 1:17 p.m.
COTTONWOOD -- A plan for a new Starbucks on State Route 89A and 260 moved forward in Cottonwood City Council Tuesday following the first reading of Ordinance 651.
The second and final reading is scheduled for Tuesday, October 16, during the next regular council meeting at 6 p.m.
On Sept. 10, Cottonwood Planning & Zoning voted 4-2 recommending Cottonwood City Council approve the project. Commission Member Tom Narwid and Vice Chairman Judd Wasden were the nay-sayers in the vote. They both cited traffic problems as their reason for voting no.
The business is slated to take the place of the former Cottonwood Chamber of Commerce building at the corner of State Route 89A and 260 -- sandwiched between Black Bear Diner and Home Depot. The area is located near one of the busiest intersections in the Verde Valley.
Starbucks estimates generating between 200 and 500 customers daily.
This time, representatives from the Arizona Department of Public Safety were at the meeting to answer traffic mitigation questions.

In a June letter to Matt Shelley, one of the developers on the Starbucks project, Nate Reisner, ADOT District Development Engineer outlined options to mitigate traffic concerns.
One recommendation was to convert the northernmost part of the driveway on SR 260 to a right-in, right-out only.
Another option is to construct a south/eastbound turn lane into the northern access on SR 260, according to the letter.
Audra Merrick, Northcentral District Engineer for ADOT told council members that ADOT is aware the intersection is a "high need."
"This intersection location is identified in our [Planning to Programming] process," she said. "It is a higher priority for the district and we have a rather large district."
P&Z Chairman Robert Williams, who voted in favor of the project, talked about the reasoning behind his vote during a call to the public.
He noted that the traffic was not going to get any better.
"However, we did all agree … that the proposed development is a quality project," he said. "It's well-designed for this problem site."
Williams said his vote was also influenced "by the fact that ADOT controls the intersection, not the city" as well as not wanting to hold the current property owners hostage "due to a government failure to act."
The proposed project will take the place of two Chamber-owned properties totaling up to .82 acres. According to the proposal, the property will have a 300-square-foot patio for customers to sit outside.
P&Z also unanimously approved river rock facing for the business.

Cottonwood City Council holds regular meetings every first and third Tuesday of the month at 6 p.m. at their Chambers Building, located at 826 N. Main St. For agendas and minutes, visit http://cottonwoodaz.gov/129/Agendas-Minutes.
A livestream of the meetings is also available on the Verde Valley TV YouTube channel.
Fast Fact:
Starbucks estimates generating between 200 and 500 customers daily.
Related Stories