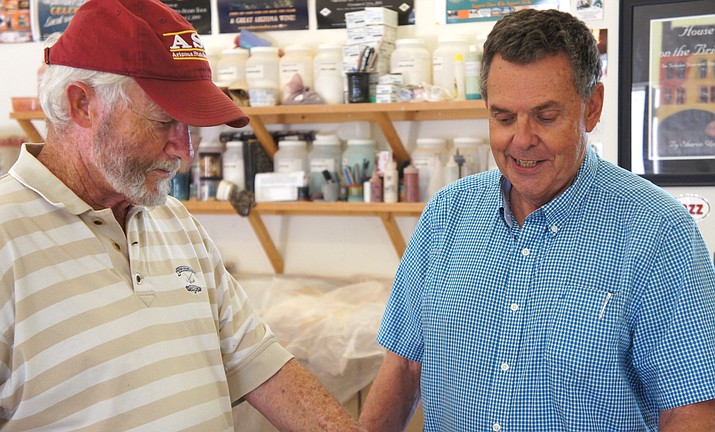 ---
---
Recently Tim Owen sat down for an interview with Mike Upp, the president of the Sedona Visual Artists' Coalition. Tim is a Sedona resident who made it his mission to visit every single studio on the Sedona Open Studios Tour last April. This was quite an undertaking considering there were over 60 studios located all over the Verde Valley. Here are some of the highlights of their conversation:
Please provide a brief description of your background particularly as it relates to your interest in the arts and the Studio Tour?
Mark your calendar
Sedona Fall Artist Open Studios Tour
October 26-28. Visit sedonaartistscoalition.org
I started off as an Economics major in college, but quickly switched to Geology, intrigued by nature's artwork and the beauty of landforms and mineral crystal forms and what goes into creating them. After a 20 year career in Australia as a geologist, I returned to the USA and made the logical segue to working as a database consultant for film festivals and other visual and performing arts non-profits in Hollywood, and later in Sedona.
How many years have you been attending the studio tour and what keeps bringing you back? What is your motivation for visiting all the studios on the tour?
I attended my first Sedona Open Studios Tour in 2013 and have attended every one since then, including the Fall tour, which was inaugurated a few years ago. What I enjoy most is the chance to meet and talk with the artists and experience the huge variety of work on display at the various studios. I found myself increasingly intrigued by the artists' stories and how their individual narratives related to their work. And, almost as importantly, the work is affordable.
Through attending Sedona Open Studios Tours over the past six years (and, more recently, similar events in other parts of Arizona and Oregon) my interests in and knowledge of various media have expanded greatly - from painting to ceramics, glass, wood, photography and metal sculpture, and fiber arts to jewelry.
In a way, I have become addicted to art and that visceral feeling of excitement and joy that can come from experiencing art. Much better than drugs. Accordingly, I started to use my database consultant organizational skills to try and visit as many studios as possible - to get my fix, so to speak - by careful planning of my route over each of the three days of the Tour.
In 2017, I managed to visit 57 of the 58 studios, and in April this year I visited all 67 studios, starting at 10 a.m. on Friday and finishing at 5:15 p.m on Sunday. When I started working as a consultant with the Sedona Arts Festival in 2014, I started making short videos with my iPhone, interviewing artists whose work I found interesting. I now do that at all the Open Studios and Arts Festival events I attend and now have over 100 such little videos. They're intended for my own enjoyment, but maybe one of these days I'll turn these into a feature length documentary and submit it to one of the film festivals I work with.
Do you purchase as a collector or for gifts or both?
I don't consider myself a "collector" as such. I buy things that I love, or buy things as gifts that I think the recipient will love. Many of the pieces that I fall in love with and buy are small. There is as much artistic merit in small pieces as in large ones - and you can always find room in your home or apartment for just one more small thing, although I've recently begun to stretch that concept to the limit. So, I guess that in terms of the sheer quantity of the works that I have fallen in love with and acquired over the years, you would have to call me a collector, rather than an addict.
What are your top five favorite studios to visit and why?
If I have to limit it to five artists, they would be (in order of first acquisition and not necessarily preference): Mary Helsaple (watercolor and acrylic paintings), Margaret Anderson (fiber art), Barbara Ragalyi (acrylic and other paintings), and Lon Walters (metal sculpture). They all work in different media and different styles and I like them all for different reasons. In total, I estimate that I have acquired works by more than 35 Open Studios artists in the past two years.